Hadle's sculpture, "Picasso and Barbie," is featured in the October issue of Sculpture magazine and is on display at Grounds for Sculpture in Hamilton, N.J.
Stories this photo appears in: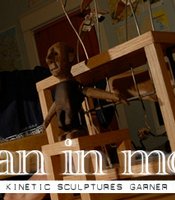 KU grad's kinetic sculptures garner national acclaim
It all started with a wooden duck that quacked and pooped. A talented 17th-century clock maker built the creature, which did most things a real duck would do, including eat and "digest" food.