Stories this photo appears in: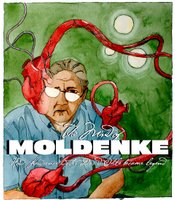 How Lawrence writer David Ohle became legend
The legend of David Ohle was born in 1972 with the paragraph, "Moldenke lived the hainted life. As a child he was kept in a crumbled brick of a house where thick windows moaned in their frames through summerfall and gathered ice by winter." This was on page 98 of the January issue of Esquire, opposite a surrealist painting of a dismembered hand holding a telephone receiver on a stool swarming with insects. The story was called "Some Moldenke," a strange, fragmentary piece starring a listless, almost translucent observer in a bizarro world.