Andrew Earles (left) and Jeff Jensen exhibit refinement.
Stories this photo appears in: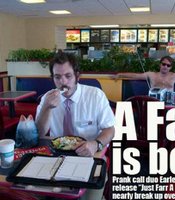 Prank call duo Earles and Jensen release "Just Farr A Laugh" collection, nearly break up over KU basketball
A 250-pound dwarf named Bleachy and '70s soft rock pioneer Christopher "F*cking" Cross are on the line for you. Well, not really-your life isn't that exciting-but you can simulate the experience with "Just Farr A Laugh Vol. 1 & 2: The Greatest Prank Phone Calls Ever!"