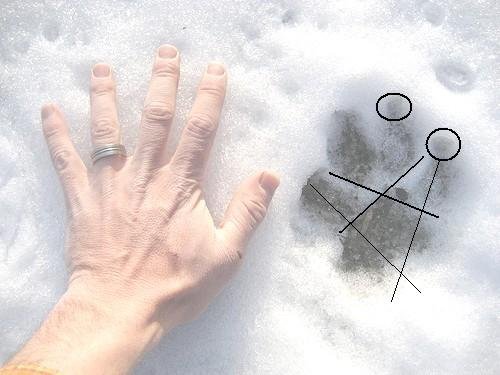 An illustration by Kansas furbearer Matt Peek, along with an explanation emailed to lawrence.com detailing what distinguishes this canine track from that of a cougar.
Phil, There is great variation in dog tracks, and the "x" isn't always as perfect as that shown in the tracker explanation. (Here's a more scientific explanation.) In fact its often as much a Greek chi as an x, and the track you have is a better example of an average dog track than the one he gives in the example. As you adjust brightness and contrast, the x or chi should jump out at you and be very obvious. Compare the "x" I identified with what it what it would look like on one of the cougar tracks in the publications, not even close to being able to make an x with a cat track (almost 3 toes go on one side of the x when you do this with a cat).
I circled the claw marks, again use the contrast to show separation of toe from claw on the one on the right in particular (cats occasionally leave claw marks, but they're narrow, not wide like this one). And a little more open to interpretation as the toe on the left isn't entirely clear, but the outer toe angles are clearly dog as well -based on the sharp angle the toe makes with the pad (as opposed to a cougar's teardrop shaped, forward-pointing toe). Various other features indicate this is dog as well (symmetry of toes and whole track, lack of heel lobes, front of heel lobe shape, etc. etc.)-and really nothing about it is cat-like.
Not necessarily a large dog, either. Most coon dogs leave a track nearly the same size as an average cougar, and a great pyranees or the very large dogs leave a much larger track than a cougar. So large size is in no way indicative, other than very large tracks exclude the possibility of lion (rather than prove it), though it's the main thing most people use to try and identify a lion track.
I'm 100% certain this is a canine track, and a good one at that. However, if you would like a second opinion, the Cougar Network would look at it. They are a non-government group that I often send people to who may or may not trust a state employee's assessment. Let me know if you have any other questions, and thanks again for letting me view it. Matt

Stories this photo appears in: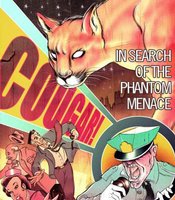 In search of the phantom Menace
It was a dark fall night one decade ago when Marilyn Horsch says she first saw a mountain lion. She was in the final stretch of her daily drive home from work in Kansas City when, near the intersection of Stull Road and E. 400 Road, the full-grown cougar sprinted across the beams of her headlights, 25 to 30 feet in front of her.