A meditation garden Moring planted near his home contains many varieties of medicinal plants he uses to make natural medicines. Some of his medicines are available at local vendors like the Community Mercantile.
Stories this photo appears in: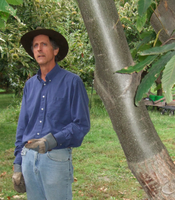 Justin Dett's goal, after finishing college, is to start his own farm. He doesn't want to start just any farm, though. The Park University student wants to use the principles of permaculture that he's been learning from Steve Moring, one of the area's most experienced permaculture farmers.