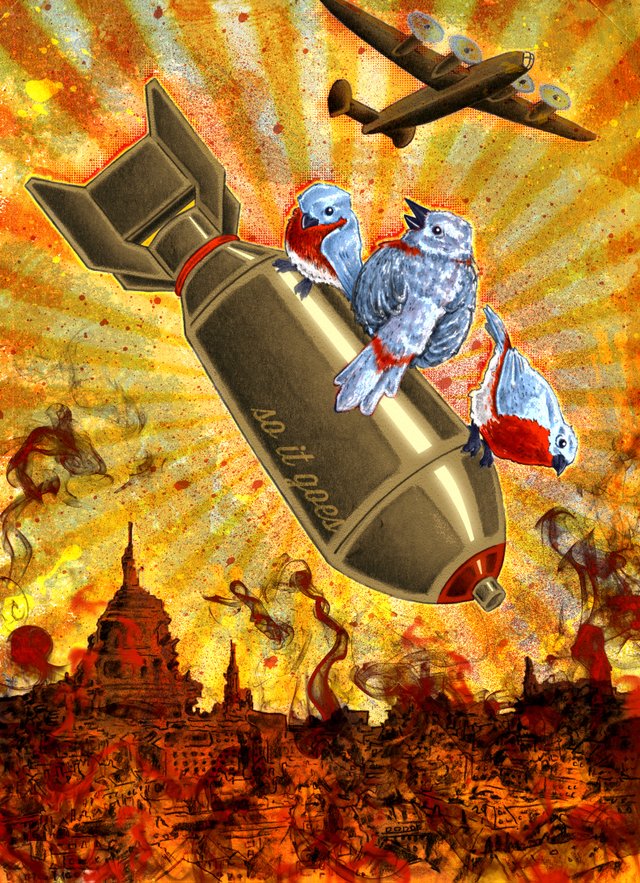 Monday's card, from the Lawrence Public Library's 2012 Banned Books Week trading card project. Watch the Journal-World for a new card to be highlighted each day this week, and pick up cards of your own at the library, 707 Vt., and the Lawrence Arts Center, 940 N.H.
ARTIST: Kent Smith.
BOOK: "Slaughterhouse Five," by Kurt Vonnegut.
REASON FOR BANNING: Removed from Michigan schools for being "depraved, immoral, psychotic, vulgar, and anti-Christian." Burned by the Drake County, North Dakota School Board. Recently removed from school curricula and libraries in Republic, Mo.
EXCERPT FROM ARTIST'S STATEMENT: By allowing the "Poo-tee-weet" birds a ride on one of the Dresden bombs, we are given a visual to Vonnegut's juxtaposition of serious and fatalistic subject matter with the satirical and the absurd. The image is both violent and humorous. "So it goes."