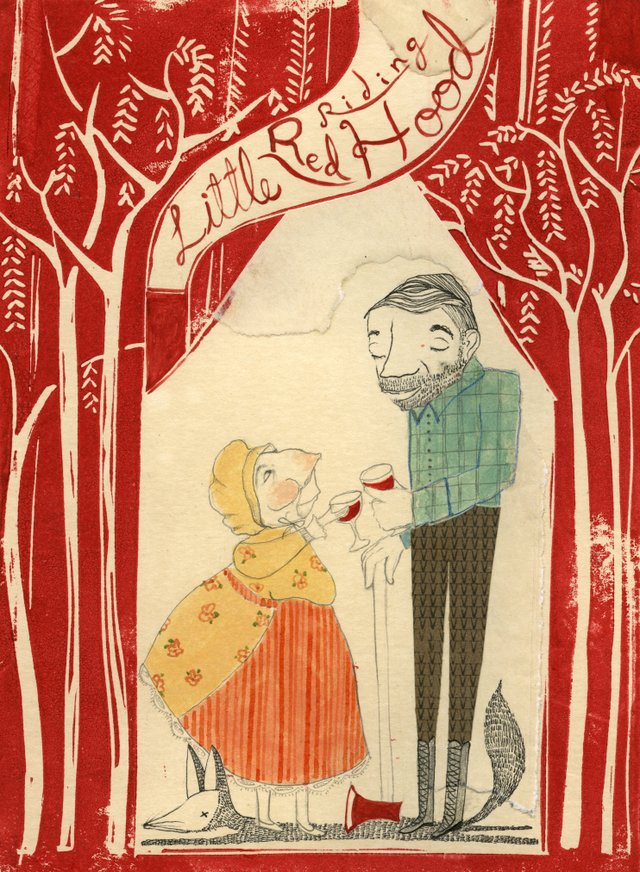 Friday's card, from the Lawrence Public Library's 2012 Banned Books Week trading card project. Watch the Journal-World for a new card to be highlighted each day this week, and pick up cards of your own at the library, 707 Vt., and the Lawrence Arts Center, 940 N.H.
ARTIST: Lindsey Yankey.
BOOK: "Little Red Riding Hood."
REASON FOR BANNING: Encourages childhood drinking.
EXCERPT FROM ARTIST'S STATEMENT: I've imagined my own version of the ending, after Little Red has gone safely back home. Grandmother and Woodsman are quite frankly glad to have a glass of wine. It had been a long day! After all, the Woodsman had found himself in a nightmare situation: he'd opened the door to Grandmother's house and sliced open the wolf to find Grandmother and Little Red were inside and alive. I'd want a drink after all that, too!