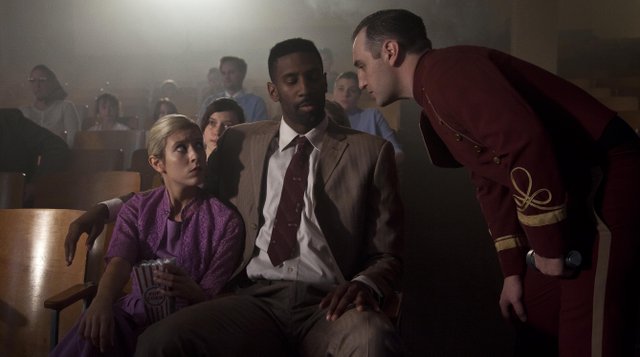 Wilt Chamberlain (Justin Wesley), center, and his date (Sara Kennedy) are told they must move to the balcony by a movie theater usher (Aubry Peters) in a scene from "Jayhawkers."
Stories this photo appears in:
Film tells story of how Wilt Chamberlain changed Lawrence on and off court
Broad, sweeping biographical films that try to sum up a person's entire life in two hours rarely ever get it right. That's why the best thing that happened to Kevin Willmott's movie "Jayhawkers" was not being able to raise the $12 million dollars they needed.
Kansas University professor Kevin Willmott will premiere his new film "Jayhawkers" at the Lied Center February 14.
Lawrence resident makes silver screen debut
Turns out, I was ready for my close-up. I was lucky enough to be cast in a minor, minor, minor part for the upcoming film "Jayhawkers." My character is "Theater Manager," and the only instruction I was given before I arrived on the set was "Your character is trying to deter people from entering a theater."