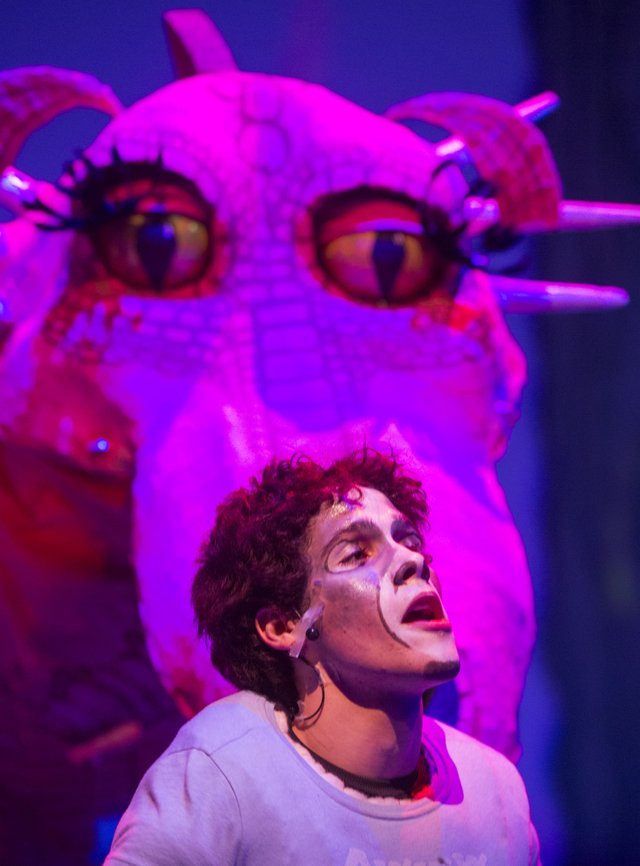 Donkey, played by Jake Leet, tries to escape from the dragon during a dress rehearsal for Theatre Lawrence's production of "Shrek."
Stories this photo appears in:
When 20-year-old Jake Leet collapsed on stage Saturday night, audience members may have thought it was scripted — after all he was playing Donkey, the most physically animated character in Theatre Lawrence's "Shrek." But castmates quickly realized something was wrong. Leet was not breathing and had no pulse. Jake's mother, Teri Leet of Lawrence, calls what happened next and in the following days a "Christmas miracle." By Sara Shepherd
Actor, city employee shares trait with title character in Theatre Lawrence's 'Shrek'
If you're looking for the perfect actor to play Shrek, the green-skinned ogre who is the subject of the beloved film and now a Broadway musical coming to Theatre Lawrence for the holidays, it would be hard to find someone better suited to the role than Knute Pittenger.
December 5, 2013 midnight