Ladybird Diner owner Meg Heriford prepares pies in the restaurant's prep kitchen, formerly the private dining room of Dynamite Saloon.
Stories this photo appears in: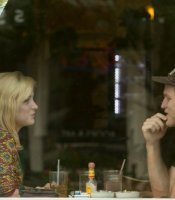 Handmade pies, soda-fountain drinks and hot sandwiches among restaurant's specialties
It's mid-afternoon on a Tuesday, and Meg Heriford is dealing with a "pie emergency." She's in the center of the prep kitchen at her fledgling restaurant — surrounded by pies in various stages of progress, cocktail apron caked in flour — rolling out discs of dough, hand-crimping crusts and popping one tin after another into the oven. Ladybird Diner nearly sold out of pie over breakfast and lunch, and if she doesn't come up with more pronto she's going to have an upset dinner crowd on her hands.