On her second try, cheese expert Sara Knickerbocker received her designation of "certified cheese professional" from the American Cheese Society after she passed the CCP exam. Knickerbocker runs the Murray's Cheese shop and overseeing a staff of eight at the Sixth Street and Wakarusa Drive Dillon's location.
Stories this photo appears in: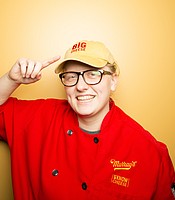 After waiting for six weeks, on Sept. 2, Knickerbocker, who heads the Murray's Cheese Shop at the Dillons at 4701 W. Sixth St., said that she received word that she had passed the three-hour, 150-question Certified Cheese Professional exam.