The abandoned bus where Christopher McCandless starved to death in 1992 is seen in this March 21, 2006, photo on the Stampede Road near Healy, Alaska. Sean Penn's 2007 movie "Into the Wild" and Jon Krakauer's book of the same name have caused people from all over the world to retrace McCandless' steps to this 1940s-era International Harvester bus where his body was found.
Stories this photo appears in: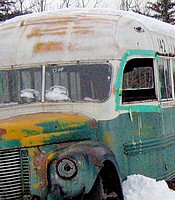 Among the millions of travelers heading out for the summer holidays, some are choosing an unlikely destination: a rusted bus on the edge of the Alaskan wilderness.