Opening night for a group show of prints curated by Michael Krueger and Kendra Herring, featuring screenprints, intaglio, lithographs and mixed media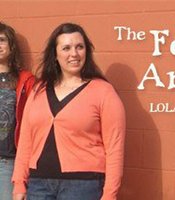 LOLA Continues Handmade Local Tradition
While Lawrence prides itself on supporting the arts, gallery closings and less than stellar support for the art auction have caused some to wonder how deep that commitment runs.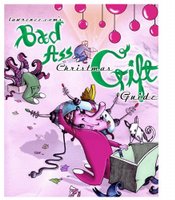 A very special gift guide, from Lawrence with love...
Woman in business casual navigates tiny, rodeo-clown car through shopping mall best she can, bumping into a throng of clone-like shoppers (choice of car is for comedic effect). Irritating Christmas music blares (think Mannheim Steamroller). Voiceover (tired, exasperated voice): "I don't know what to buy." Woman passes Helzberg Diamonds, Foot Locker, Macy's, etc., all with lines snaking out the doors of shoppers burdened with tons of bags (all labeled "SHOP"). Creepy salesman-types with dollar signs for eyes can be seen in the stores hovering over cowering shoppers. She is about to give up. Then, at the very end of the mall, she catches a glimpse of the lawrence.com store.
November 26, 2007 8:33 p.m.
Recent gallery closings spur creative community to rethink the scene
Sometimes it takes bad news to shake people out of complacency. That might be the best way to describe what's going on at the moment in Lawrence's visual art community.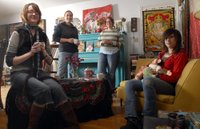 LOLA artists (from left) Molly Murphy, Kylie Grater, Kendra Herring, and Leslie Kuluva.
[]
Create search alert for ""kendra herring""