Vanity, parenting, soul mates and even cars are endearingly touched upon in "A Man's Journey to Simple Abundance" (Scribner, 448 pages, $22), the latest in Sarah Ban Breathnach's "Simple Abundance" self-help series.
It's the oldest cliché in the book: Men hate shopping.
Our general love for all things Brit has most definitely crossed over to the fashion world.
February 4, 2013 midnight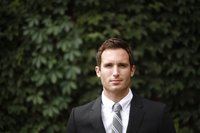 []
Create search alert for "scribner"