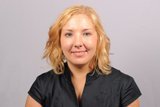 Before starting here, I worked just about every job possible at the University Daily Kansan. I also worked for KJHK, where I helped develop the web site, had a weekly music show and managed underwriting. I've also interned at Al Jazeera English in Washington, D.C., and the Leavenworth Times.
I graduated from Piper High School in Kansas City, Kan., but also spent a lot of time (years — if all the trips were added up) in a small town on the North Sea in England. I graduated from Kansas University in December 2011; I majored in journalism with concentrations in Islamic studies, poetry writing and political science.
I cover K-12 education and county government as well as events on Saturdays. If you have a story idea, question or comment, please email me at acgarrison@ljworld.com or call me at 832-6314. You can (and please do!) follow me at Twitter.com/alex_garrison.
Recent Stories