Recent Stories
What began as one Lawrence woman's idea to hold a small benefit concert to help raise money for hurricane relief has turned into a full-blown, daylong concert with a carnival atmosphere.
Sticky floors, grimy walls and dim lighting.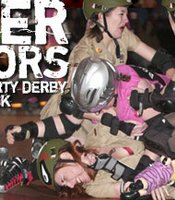 The down-and-dirty sport of roller derby is being embraced by a new generation of women
It's the ultimate girl fight. Women push and shove. They body-check each other. They get in brawls. They purposely fall to take out an opposing team's player. But this isn't football or rugby. It's a full-contact sport that involves roller skates, flashy outfits and -- usually -- fishnets.