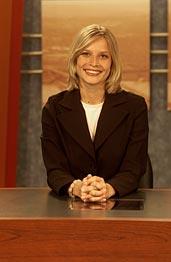 At what moment did you realize you wanted to become a journalist (videographer, meteorologist, sports reporter, etc.)? And if there wasn't a specific point in time, what was the motivating factor?
When I was in eighth grade, I won a contest to anchor/report for Channel One News for a week. I met a lot of interesting, hard-working people and decided that it was the job for me. I love it because every day is different.
When you really want to relax and let your hair down in Lawrence, where do you go and what do you do?
I love to go to Teller's to drink wine and talk with friends.
What comes to your mind as the most memorable local story you've covered?
Bill Clinton's trip to Lawrence in 2004 was one of my first big stories. There was a lot of excitment surrounding that lecture which included an introduction by Senator Dole. I also had a great time covering the 2004 elections. My most memorable election moment was definately when the Kerry/Edwards campaign rolled through Lawrence.
If you couldn't be a reporter, what occupation would you want to try?
A teacher.
Which two people do you admire most? One should be someone you know. The other, someone you've never met.
My mom ... and Ed Murrow.
If you were stranded on a deserted island with only one song to listen to and one book to read for the duration, what would they be?
Song -- something I can sing ... Well, like "Happy Birthday." Book -- "War and Peace," because it is long and I haven't read it yet.
If they were going to execute you tomorrow, rightly or wrongly, what would your last meal consist of?
Beef medallions from Pachamama's.
Recent Stories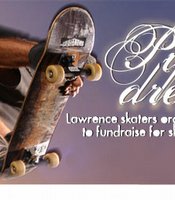 Lawrence skaters organize art show to fundraise for skate park addition
Craig Stucky doesn't know where he'd hang out if it weren't for the skate park at Centennial Park.
The Wakarusa Van will travel to 12 Midwestern states to promote the festival.
April 25, 2005 11:03 p.m.