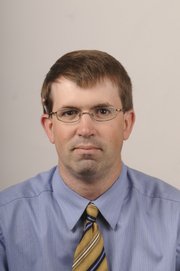 I've been reporting news in Lawrence since 1992. Before joining the NewsCenter, I was editor, publisher and owner of the Lawrence Business Ledger and the Baldwin Ledger newspapers. I've been with the Journal-World since 2001, when I sold my weekly newspaper business to the company.
As editor of the Journal-World, I oversee our team of reporters, copy editors, photographers and other journalists who produce the print edition, LJWorld.com, KUsports.com and other publications. I write a daily column called Town Talk that covers the area business community, keeps an eye on the local political scene, and relays other information I've heard around town. As a writer I have undertaken a variety of first-person journalism projects. In parts of 2007 and 2008, I received some national publicity for a series of articles detailing how I purchased a handgun, received a concealed carry license from the state, and carried the weapon around for a few days.
I also enjoy writing profiles on area people, ranging from a promient nightclub owner to the corner hot dog vendor to a 91-year old woman who still goes to work six days per week. If you know of someone interesting, send me an e-mail.
I have my degree in journalism from the University of Kansas, and also did some undergraduate work at Emporia State University. I'm a native of the small Kansas town of Melvern, which is about an hour away from Lawrence in Osage County.
My wife and I have two children. In my spare time, I focus a lot on the three 'b's' of life — barbecue, billiards and boating.
Recent Stories