Recent Stories
Lawrence artist Kristen Ferrell's study of duality and paradox
Kristen Ferrell's art is a clash of oppositions. The Lawrence artist's pieces consist of innocent, almost cute images - but with ironic, often grotesque contortions that could only speak to the most cynical viewers. In short, Ferrell's art evokes her generation's coming of age.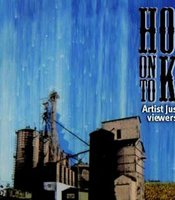 Artist Justin Marable reminds viewers of vanishing history
Justin Marable knows Kansas rural life first-hand, having grown up in Robinson - a town of 200 about 70 miles north of Lawrence - where not even a bank remains today. Now 22 and having lived in Lawrence for four years, he returns home with an appreciation of the landmarks of rural life. To Marable - a younger brother of Aaron Marable - these symbols of home are something remarkable, uncluttered and have a story to tell.
March 26, 2005 11:17 a.m.