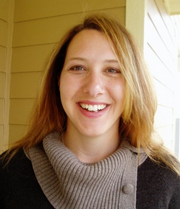 I am a special projects reporter for the Lawrence Journal-World. Since coming to Kansas in March 2007, I've worked on projects that ranged from tracking hundreds of sexual assaults in Lawrence to covering the state's emerging wind industry.

On Saturdays I am a general assignment reporter, which means you can find me around town reporting on parades, animal shows and breaking news. So, if you have anything fun happening that day of the week, let me know.
I grew up in central Pennsylvania where I made my journalism debut in second grade. I wrote a Thanksgiving short story (as in three paragraphs) on Tom Turkey that was published in our small town newspaper. It's my only newspaper clipping that is laminated.
I still haven't gotten over the rush of seeing my name in print. After high school, I went to Lehigh University and graduated with degrees in journalism and economics.
My first newspaper job was in Steamboat Springs, Colo., where I covered everything from high school football to ski town politics. Later I moved to Bend, Ore., to work as a city hall reporter for the The Bulletin.
So far, my journalism career has sent me up a hot air balloon, to the middle of a burning house and on the trail of a tornado. But even better, it is a job that gives me the chance to meet people from all walks of life who have amazing stories to share.
When not in the office, I am usually outdoors running or biking. And, when the stars are aligned and Kansas is graced with enough snow, you might even catch me cross-country skiing.
Recent Stories