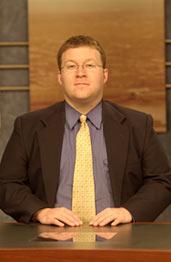 I've been News Director at 6News since December 2000. I oversee a staff of 17 and work closely with print and on-line staffers and editors to facilitate daily convergence and long-range, cross-media projects.
I love the fact that news in Lawrence and our surrounding towns is not all gloom and doom. We tell stories that truly impact our viewer's lives -- and hopefully leave our audience smiling from time to time. It's nice not to be in an "if it bleeds it leads" atmosphere.
It's also great working in a community where the audience is so well-informed and engaged.

In my spare time, I enjoy playing softball and spending time with my two nieces. I came to Channel 6 in March 2000 after 3 years as a reporter for KLWN/KLZR radio in Lawrence. I'm a native Kansan and 1997 graduate of Baker University in Baldwin City, Kansas.
You can follow me on Twitter, where I provide instant updates on news and what's going on in Lawrence.
Recent Stories
Texas Hold'em poker games draw a crowd
Stacking his mountain of green chips, Aaron Salter forced his opponent to utter the magic words of poker. "All-in," Blake Shuert begrudgingly proclaimed from behind his own short stack of chips. Shuert flipped over a six and a two; his fate at the table was quickly decided.
(Updated Wednesday at 12:36 p.m.) Hundreds of people stayed up late Tuesday night -- to say they got the first look at the newest "Lord of the Rings" movie in Lawrence.