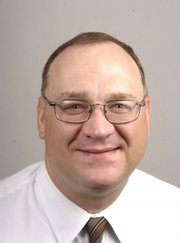 I joined the Lawrence (Kansas) Journal-World as managing editor in April 2005.
Our newsroom has more than 40 journalists who provide content for the Journal-World newspaper and on LJWorld.com, Lawrence.com, Wellcommons.com and KUsports.com.
The Journal-World is a leader in multimedia storytelling. We've won three consecutive Associated Press Managing Editor Convergence Awards (2007- 2009), and finished second in 2010. The newspaper has also won the Suburban Newspapers of America Newspaper of the Year Award in our daily circulation category in 2010, 2009, 2007 and 2005, finished second in 2006 and third in 2011.
I've spent most of my career as an editor. Prior to joining the Journal-World, I worked for 10 years at Gannett Co. Inc. newspapers, including serving as managing editor of the Norwich Bulletin in Connecticut from 1999-2005 and as metro editor of the Binghamton Press & Sun-Bulletin in New York from 1996-1999. I was also managing editor for two of the Pioneer Press chain of suburban Chicago newspapers before joining Paddock Publication's Daily Herald in Arlington Heights, Ill., in 1990, where I was a bureau chief. I was recognized as one of Gannett's top 10 supervisors in 2000, and in 2006 I won the Kansas Press Association's award for best column writing.
I was elected in 2009 to the Associated Press Managing Editors board of directors and have participated in a number of journalism training seminars including American Press Institute workshops for city editors and for managing editors. I also serve on the board of the Douglas County United Way and I am a member of the Lawrence Chamber of Commerce's Leadership Lawrence class of 2006.
Outside work, I coach youth baseball and am a Big Brother. My wife Julie and I have two sons, Eric and Thomas, and two dachshunds, Lorenzo and Francesca.
You can follow me on Twitter.
Recent Stories