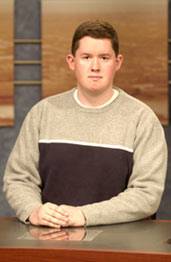 At what moment did you realize you wanted to become a journalist (videographer, meteorologist, sports reporter, etc.)? And if there wasn't a specific point in time, what was the motivating factor?
I first started journalism in high school, writing for the school paper and working for the school radio and TV station. It was my grandfather's 50+ years in broadcasting that first piqued my interest.
When you really want to relax and let your hair down in Lawrence, where do you go and what do you do?
Since I don't have much hair to let down, I mainly hang out at my apartment or with friends at their places.
What comes to your mind as the most memorable local story you've covered?
Last year, as a senior at KU and sports director for campus television station KUJH-TV, during the three week period following KU's loss to Syracuse and the madness
surrounding Al Bohl, Roy Williams and Bill Self. I may have missed a couple of classes over that three week period.
If you couldn't be a reporter, what occupation would you want to try?
I would want to stay in the media/entertainment field in some way, perhaps being a film director.
Which two people do you admire most? One should be someone you know. The other, someone you've never met.
1 - My grandfather, for the daily dedication he puts into his job, even though he is nearing 80. 2 - Peter Jackson, truly a great story teller and one of the best directors in film for this generation.
If you were stranded on a deserted island with only one song to listen to and one book to read for the duration, what would they be?
Song: American Symphony. Book: 'Lord of the Rings' (mainly because it's so long and I figure I'll have a lot of time on my hands).
Recent Stories
Pop culture finally embraces tastes of the kids once deemed uncool
Micah Adams is a child of the Nintendo generation. He spent his early years punching the A and B buttons on a controller that guided an Italian plumber through a land of mushrooms and Koopa Troopers.
George Lucas created "Star Wars" as a movie for kids. More than two decades after the release of the first film, those kids haven't exactly gotten too big for the universe.