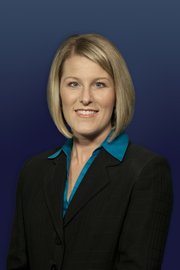 I joined the 6News team after moving to Lawrence in 1998. Since then, I've been behind the desk, anchoring either the 6 p.m. or 10 p.m. news. My passion is to be out in the field reporting and doing stories that impact people's lives. I've won several awards for my reporting, including Best Spot News story from the Kansas Associated Press for a 2002 piece I did on a KU student who survived a lightning strike.
I grew up mainly In Naperville, Ill., a suburb of Chicago, and have spent time in Tulsa, Okla., where I was born. That's why I moved back to the Sooner State to attend college. I received a Bachelor's degree in journalism from the University of Oklahoma and minored in French. The highlight of my time at OU was playing on the Big 8 Championship soccer team.
After taking some time off to work as a ski instructor in the mountains of Colorado, I went back to school, graduating with a master's degree from Northwestern University's Medill School of Journalism.
My first job took me to the Northwoods of Wisconsin, where I worked as an anchor/reporter for WJFW-TV, the NBC affiliate in Rhinelander, Wis. My work experience also includes time at MSNBC during the 1996 Democratic Presidential Convention, working in Colorado Gov. Roy Romer's press office, and serving as a Washington, D.C.-based correspondent for a television station in Fargo, N.D.
When I'm not working, I enjoy traveling and spending time with my husband, our two young sons and our dog, Jack, a Golden Retriever/Cocker Spaniel mix we rescued from the Lawrence Humane Society.
You can follow me on Twitter, where I provide instant updates on news from the courts as well as other news of interest in the Lawrence area.

Recent Stories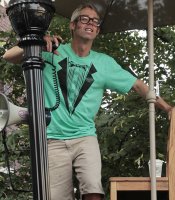 Live updates from the Sidewalk Sale
A band. Free water. Cookies. Massages. While some were shopping, others were taking advantage of the free refreshments and entertainment available to those who came downtown for the annual sidewalk sale.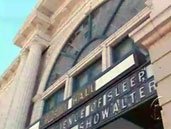 Twenty years ago, it was a rundown shell hosting only a handful of concerts. Liberty Hall was known then as the Lawrence Opera House. In 1985, it was bought out of bankruptcy at a sheriff's sale. Tonight, employees, Lawrence residents and fans of one of the city's most historic venues will celebrate 20 years.
A group of war protesters cause a disruption this afternoon at a local military recruiting office.