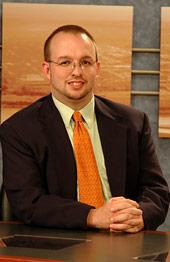 Hometown: Hillsboro, Kan.
College: Tabor College; Hillsboro, Kan.
Degree: Bachelor of Arts in Communications, with an emphasis in journalism
At what moment did you realize you wanted to become a journalist (videographer, meteorologist, sports reporter, etc.)? And if there wasn't a specific point in time, what was the motivating factor?
I've always loved history. When I was in high school watching coverage of the Tiananmen Square protests in China during the summer of 1989, I knew I wanted a job that would help me touch history as it was being made.
When you really want to relax and let your hair down in Lawrence, where do you go and what do you do?
Cover myself in chocolate sauce and... never mind.
As is probably too well known, I spend lots of time in downtown coffee shops -- great places to read, meet new people, get into lively discussions and make new friends.
What comes to your mind as the most memorable local story you've covered?
I would say the December 2000 bank robbery standoff that resulted in the evacuation of businesses around Ninth and Massachusetts streets. I remember that story because it was more complicated than a simple crime -- it was about a financially desperate man who committed a foolish and desperate act.
If you couldn't be a reporter, what occupation would you want to try?
Owner of a small, struggling bookstore.
If you were stranded on a desert island with only one song to listen to and one book to read for the duration, what would they be?
The "Kansas: Land of Ahs" theme from 20 years ago. "A Prayer for Owen Meany" by John Irving.
If they were going to execute you tomorrow, rightly or wrongly, what would your last meal consist of?
A small Rudy, thin wheat crust, from Rudy's Pizzeria in downtown Lawrence.
Recent Stories