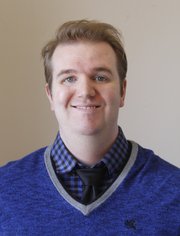 I've lived in Kansas most of my life, growing up in cozy Westwood Hills and spending almost five years at the University of Kansas, majoring in journalism and creative writing and graduating in 2005.
I began working at the Lawrence Journal-World as a copy editor and designer in the fall of 2006, my first real job coming off a string of internships at papers and magazines throughout the U.S.
I'm a true word nerd at heart. Some of my favorites: Coruscate. Serendipitous. Scrumptious. Boondoggle.
I love living downtown and having so much around me to do on a whim. When I have free time, I like going to one of the many coffee shops nearby to grab a chai and do the day's crossword, going to Smackdown trivia at the Bottleneck, and generally vegging out. Don't get me started on "Lost" because I could talk about it for hours.

Recent Stories