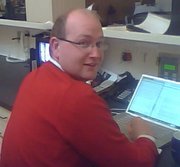 I joined the News Center as a part-time reporter in December 2006 and am now the assistant director of media strategy, a job I took on in June 2010.
In my new role, I'll help launch and nurture some of our newest sites, like WellCommons and Sunflower Horizons, plus others that we're still developing, as well as help relaunch lawrence.com. I'll also help ensure the continued growth, both in traffic and interaction as well as revenue, for LJWorld.com and KUsports.com.
I started as a full-time reporter covering Kansas University, my alma mater, in August 2007 after graduating, and became online editor in May 2008.
Previously, I was editor of my college newspaper and had internships at the Kansas City Star, Des Moines Register and Austin Business Journal. My primary role is to help the staff engage the community via our Web sites, create interactive, multimedia journalism and promote the growth of our online sites.
In my spare time, I like to read books and spend time with my wife and our dog, a border collie-lab mix. I also like to travel and spend time enjoying all that Lawrence has to offer.
You can follow me on Twitter, where I provide behind the scene updates on news and what's going on in Lawrence.
Recent Stories