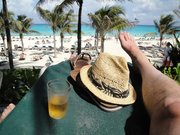 I was born in Des Moines but was forced by my parents to move to Omaha when I was 6 months old. Spent my formative years in the public school system there where I got interested in photography and journalism working for the newspaper and yearbook at Omaha Central High. I think it was the idea of walking around with a camera that became my window to the world. Come to think of it, I have been seeing the world for the last 36 years through an SLR viewfinder. Photography came naturally to me, like breathing.
College years (and my money) was spent at University of Nebraska at Omaha. I worked on The Gateway newspaper on campus and also part-time with the Daily Nonpareil newspaper in Council Bluffs, Iowa as a photographer. Saw a lot of towns throughout Pottawattamie County.
After college, I lived in the Dallas area with my first wife. Our son was born in Plano, Texas. I did mostly freelance work there for trade publications. With a child around now, we decided to move closer to family and picked the Kansas City area as neutral enough to be near the in-laws. Got my first interview then with the Kansas City Star but didn't get the job. Ended up buying an old farm house in Wyandotte County that was a handy man's dreams—or nightmare, depending on your point of view. It was also the beginning of my love for tools. Gotta have the right tool to do the job right. This was 1984 and I got job working at a local major photo lab running their black and white department. Continued to freelance with trade publications.
Jumping ahead a few years, I was now working at a commercial studio when I got an interview with The Kansas City Star, again. The year, 1987, was filled with changes for me from employment to the birth of my daughter and moving from KCK to Prairie Village. This time I got the job as Lab Manager, running the photo-lab and studio. Here I did everything from color and black & white film (remember that?) processing and printing, fashion and food photography. Just about anything that needed to be shot in the studio. I worked in this position until 1993 when I went back to the streets as a general assignment photographer.
I went on to photograph a variety of assignments. For two and half years, I was the business photographer working mainly with the business writers. Worked on major projects as well including "Raising Kansas City"; "Urban Sprawl" (which was a 1996 Pulitzer finalist on a series of the impact of spreading suburban growth).
I became the weekend Picture Editor late in 1999 and continued to photograph three days a week. This was also the time that digital was becoming more available for newspaper work. I once had the opportunity to try a new digital camera that was tethered to a CPU side-pack. I took this to a KC Chiefs game. Way too heavy. I saw a prototype of a new Nikon D1 at the PMA Show in Vegas earlier in the year and thought "this is the future."
After leaving The Star in the summer of 2002, I went back to freelancing. However late in 2002, I discovered a new newspaper was starting up called, Shawnee West Dispatch. Seeing that the paper had no staff photographer, (some reporters can't shoot; only write well) I saw an opportunity to try something new. So in December, 2002, I went to work as the only staff photographer for a group of small weeklies (Shawnee West Dispatch, Bonner Springs Chieftain and The Basehor Sentinel) which are all owned by The World Company.
This was a good move. I got the chance to cover a variety of assignments, including high school sports. I never really considered myself a sports photographer. But now I love the action. Especially soccer.
I got remarried in June, 2006 in Jamaica to Sharon, a wonderful woman. I also now have two step-sons. Sharon and I met on a blind date. I remember her telling me she was in education some how (school psychologist). So I said on meeting for the first time, "Since we don't know what we each look like, let's wear a funny hat to find each other." I thought I was clever and found a mortarboard (she's in education, I thought) at a thrift store. We agreed to meet at a coffee shop, even though she doesn't drink coffee. I walk in with cap on my head. She laughed. She wasn't wearing a hat. But she was cute.
The economy was turning in late 2008 when I got laid-off from my position. Ironically, three weeks after that happened, I got a call from the Lawrence Journal World asking if I wanted to freelance for the daily in Lawrence. That was in December. After part-time work for the next seven months, I was hired on (rehired?) by the World Company for my current position. It was kind of an easy transition. I knew a lot of the staff. Don't mind the commute from Shawnee. Love the coffee shops in Lawrence.
So since I spent so much of my early years in Nebraska, I do qualify as an official Husker fan. I remember listening to Lyle Bremser on KFAB radio calling out "Man Woman and Child," for Johnny Rodgers. They had some great teams over the years.
When I am not working in Lawrence, I stay at home and drink too much, kick my cat around and yell at the neighbors.

Recent Stories