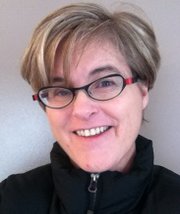 I've worked at the Journal-World since 1999, most recently as daytime copy editor. Before that, I worked nights as the copy chief, an assistant news editor, and a copy editor. I have degrees from KU in law, English, philosophy and journalism, and I've taught Multimedia Editing there since 2000.
Recent Stories
As many guest speakers in Kansas do, Margaret Atwood began her much-anticipated speech with an allusion to "The Wizard of Oz." Only this time it wasn't something the 1,100 Kansans in the room had heard a million times before. This time it was a query, not a cliché. And it elicited genuine — not merely polite — laughter. By Kim Callahan
Holiday honoring working people finds a few with unique passions
Richard Renner would prefer not to eat fire, but "I'll do it if I have to," he says.
September 5, 2005 midnight