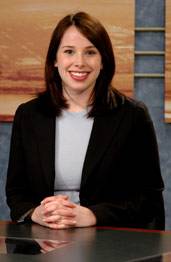 At what moment did you realize you wanted to become a journalist (videographer, meteorologist, sports reporter, etc.)? And if there wasn't a specific point in time, what was the motivating factor?
When I started writing for my school paper in college. Although I was writing movie, music and TV reviews, I loved the process, the quick pace. Every day is different.
When you really want to relax and let your hair down in Lawrence, where do you go and what do you do?
Mass Street is always fun. I also like going to movies -- and getting in my car and just driving until I get lost.
What comes to your mind as the most memorable local story you've covered?
A story on Hospice care. Linda Sosa's brother was dying, and she came from Japan to care for him because there was no hospice home available here in Lawrence. Her story was moving and powerful. Her brother passed away the day after the story ran.
If you couldn't be a reporter, what occupation would you want to try?
Something in the film industry. Probably a producer. But if we're shooting big -- head of a studio.
Which two people do you admire most? One should be someone you know. The other, someone you've never met.
My mother and father. My mom is a print reporter, and I have learned so much from her on how to be a good journalist. My dad is the most generous person I know -- he would do anything for his family. The other is between Paul Newman -- not only is he an excellent actor, he is charitable and, of course, very handsome -- and David Letterman. I think he's a comedic genius and seems very down to earth.
If you were stranded on a deserted island with only one song to listen to and one book to read for the duration, what would they be?
Books: Catcher in the Rye and The Color Purple. Song: I can't choose. I'm not good with these kinds of final questions.
If they were going to execute you tomorrow, rightly or wrongly, what would your last meal consist of?
A steak, but very rare -- preferably bloody -- and apple pie with cinnamon ice cream.
Recent Stories
As a child growing up in Prairie Village, Eric Darnell woke at 5:30 a.m. on Saturday mornings even though the cartoons didn't start for another half hour. He sat with a bowl of Cheerios watching "Farm Report," eagerly awaiting the animated toons. Now his childhood love of cartoons has led to a career as an animation director.
Peter Nyarol Dut has a mattress to sleep on, a cell phone, a car, a job and is continuing his education. If you ask the surviving members of his Dinka tribe in Sudan, he is living the American Dream.
"You guys are good -- that didn't even take 24 hours," says the mechanic who missed his court date and was apprehended at work by bounty hunters Brock Robson, 20 and Gerard Kleinsmith, 38.