Matt Erickson covers Kansas University for the Journal-World.
Recent Stories
"A Kansas Bestiary," from three Lawrence-area friends who share an interest in nature and conservation, draws on a medieval tradition to tell the stories of 15 animals that represent the state of Kansas. Using watercolor illustrations and essays, it connects the animals to literature, American Indian traditions, Kansas' past and more. Like its European ancestors from 800 or so years ago, this Kansas bestiary is no encyclopedia. But that doesn't mean it didn't require painstaking work to produce the essays and watercolor illustrations devoted to 15 different creatures native to the state. By Matt Erickson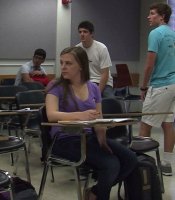 The film "Té Buffet of Life" is the result of a semester-long experience for 20 Kansas University freshmen who all live in the same residence-hall wing as part of a "living learning community." The movie, a half-hour long high-school romantic comedy, will be screened Wednesday night at the Kansas Union. By Matt Erickson
November 27, 2012 7:14 p.m.