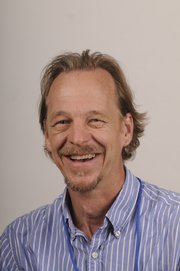 I grew up in Kansas City, MO, where I attended Grandview High
School.
I received a bachelor's degree in communication from Goshen College, IN. in
1978. Since I had earned an FCC radio license in school and spun actual records for a late night radio music show I initially considered a radio career. Instead, a photo internship at the Elkhart Truth newspaper in Elkhart, IN. convinced me to pursue a career in photojournalism. I choose Ball State University in Muncie, Indiana, David Letterman's alma mater. Prior to completing my master's degree in journalism however, my first wife and I formed a bluegrass band and with 2 other musicians and toured Europe for six weeks with a folk dance troupe.
In 1983 I received my degree and with a portfolio of photographs in hand I started looking for a job.
Several months later I was offered a staff photography position at
the Journal-World.
In my spare time I play guitar and sing with two area acoustic bands, The Alferd
Packer Memorial String Band and Three Bean Salad. With the two bands I've recorded six albums of music and traveled extensively throughout the state to perform. I've even been know to write songs for the bands from time to time and managed to win a couple first place songwriting awards at the annual Walnut Valley Music Festival in Winfield, KS. You can sometimes find my on long-distant bicycle rides. I've done the Bike Across Kansas two times, a four-day bike ride through the Black Hills of South Dakota twice and a recent Cottonwood 200 spin through the Flint Hills.
In 2008 I married Karen Seibel, a long-time Lawrence resident and local yoga instructor. We live in an 1880's house in Old East Lawrence and have been re-modeling and slowly bringing the house back to shape. We have three cats, two cars, one screened porch and tons of books. We enjoy traveling and then creating books from our trips. Currently we have self-published books on trips to South Dakota, the Sandhill Crane country in Nebraska and the hot springs area of New Mexico. In 2007 I published a book celebrating the 100th anniversary of the Vinland Fair in Douglas County after spending nearly 25 years documenting the community event.
Recent Stories