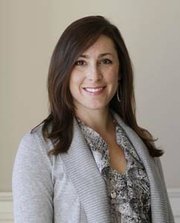 I'm the Journal-World's enterprise reporter, tasked with finding interesting stories that reflect the Lawrence and Douglas County communities. My beat includes daily news articles and more in-depth projects on a variety of subjects.
I also write about the Lawrence restaurant scene — where everything from garden-fresh craft cocktails to exotic Asian hotpots to bacon cheeseburgers slathered with peanut butter can all be yours (to actually eat, or just read about if you'd rather). Check out my blog, Wined & Dined, and weekly food spotlight, Off the Beaten Plate, on Lawrence.com.
Previously, I was a cops and courts reporter for The Kansas City Star, where I covered untimely death or destruction of some kind most every day for a few years. I've also covered suburban city government and schools for The Star and The Shawnee Dispatch, a weekly paper just up the road. My first beat at the Journal-World was features, covering food, arts, entertainment and lifestyle.
I'm a fourth-generation graduate of Kansas University, where I majored in journalism, art history and French. To reach me, call 785-832-7187 or send email to sshepherd@ljworld.com. Follow me on Twitter @saramarieshep.
Recent Stories