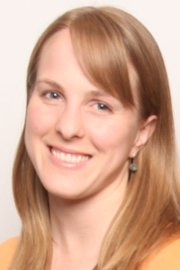 I grew up in Overland Park and attended Kansas University, graduating in 2003 with degrees in journalism and Spanish.
After walking down the hill, I worked as a sports copy editor in Scranton, Pa., (home to Dunder Mifflin for all you "Office" fans) for a year after graduation before moving to sunny West Palm Beach, Fla. In Florida, I worked as a sports copy editor for The Palm Beach Post and weathered three hurricanes - Frances, Jeanne and Wilma.
Happy to get away from the hurricanes, I returned to Tornado Alley and Lawrence in the fall of 2007 as a news copy editor before switching over to features writing in January 2008. I cover food, arts and entertainment and family for Lawrence.com, Pulse and Go! and blog about food and healthy eating for Lawrence.com and WellCommons.com.
When I'm out of the office, I run ultramarathons, read true crime/mystery novels, watch professional tennis (Go Rafa!) and obsess over KU sports with my husband, Justin. I'm also the proud mama of a smiley little man, Nate, as well as a cat, Rufus, and Welsh corgi, Ellie.
Drop me a line through e-mail (shenning@ljworld.com) or on Twitter (@shhenning) — I always love to hear from other pop culture nuts, foodies, moms and workoutaholics.
Recent Stories