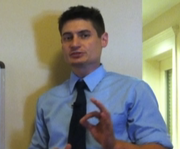 Shaun began working for the World Co. in 2008.
He is new to Kansas, having grown up in Florida and Michigan. He remembers the snow in Michigan and the giant cockroaches in Florida.
He has a 12-inch scar on one of his legs. He tells people it's a shark bite. About half the time people believe him.
His nose breaks very easily. He has learned this lesson the hard way.
He does not play video games and he feels strongly that other adults shouldn't either.
People tell Shaun that his best quality is his punctuality. He isn't sure if that's a compliment.
There are many things that Shaun is not good at, and he accepts that and plans no improvement in those areas, which include fixing things, cooking, and directions.
In his life, he has worked as a basketball referee, a pizza delivery driver, an undercover store detective, a social worker, a bouncer, and now a journalist.
You can follow him on Twitter @shaunhittle
Here is a list of some of Shaun's favorite reporting projects:
• The Boy in the Attic: http://bit.ly/mUFOoH
• From the Ashes: Five Years Later: http://bit.ly/q0QF4d
• A Tournament of their Own: http://bit.ly/pi8EQy
• Rodeo School: http://bit.ly/iGkD2C
Recent Stories