Hey, look at that—a new design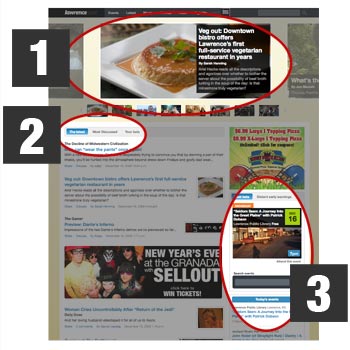 Maybe you noticed — things look a bit different on the front of lawrence.com.
We tweaked a few aspects of the layout in our ongoing effort to better serve you, our reader.
Basically this design tweak does three things...
1
The most obvious is that, at the top, we now have multiple lead stories, photo galleries, podcasts, videos and the like. This should give you a wider selection from what's new on the site. It should also give new visitors to lawrence.com a better sense — at a glance — of the variety of stuff we have on this site.
2
We've incorporated the "Latest," "Most discussed" and "Your bets" (events that are coming up at your favorite places) in the main body of the front page. This used to be a bit hidden off to the side of the site.
3
We've reduced the amount of space that calendar events take up on the site. They will now be below the ad in a sidebar, instead of taking up so much space top and center of the front page.

We hope you like these changes — they were all born out of consistent feedback we were getting from all kinds of readers. As always, we appreciate you taking the time to send us what you think — we've provided a space for doing so at the bottom of every page on lawrence.com.
In the coming months we'll be working on a much more significant update to the site, both in terms of design and functionality. As we do so, we'll be drawing heavily on reader feedback — so let us know what you like, what you don't like, and what your ideal lawrence.com would have that it currently does not.