'American Idol' gets inspirational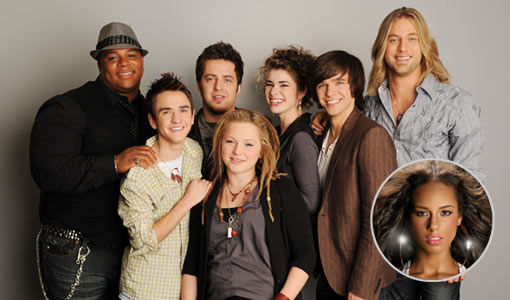 Part of the allure of "American Idol" is you hope for that one special performance that judge Simon Cowell refers to as "a moment." Whether it's Fantasia Barrino crooning "Summertime" or David Cook overhauling "Billie Jean," each season yields performance worthy of becoming iconic.
Given that it was "Inspirational Songs" night, it provided the perfect canvas for that "moment" to happen. It also opened the door for maudlin cheese to seep through.
Most of the competitors split the difference -- with a little mentoring from Alicia Keys -- often confusing "inspiring" with "overdone." Take Casey James, whose shopworn rendition of Fleetwood Mac's "Don't Stop" (the weakest song on the classic "Rumours" record) kicked off the show with a thud. As with many past "Idol" contestants, James has more talent than good judgment. The selection did nothing to camouflage his cover band roots.
Lee DeWyze delivered Simon & Garfunkel's "The Boxer," flanked by an army of backup singers and symphonic musicians. It was unnecessary overkill, considering he could have likely gotten the same mileage out of a version featuring only his acoustic guitar and comfortably raspy voice. The judges were overly fawning of his routine.
Tim Urban stuck within his wheelhouse of emotional-yet-unchallenging material with a soundtrack-friendly "Better Days" by Goo Goo Dolls." Like the Dolls, it was blandly pleasant -- or pleasantly bland.
Aaron Kelly cranked out one of the night's better vocal performance's. Unfortunately, it was at the service of R. Kelly's "I Believe I Can Fly" -- a song perhaps only rivaled by Whitney Houston's "I Will Always Love You" and Celine Dion's "My Heart Will Go On" for cliche ballad of the millennium. Also, given R. Kelly's multiple arrests on child pornography and underage sex charges, isn't it a bit skeazy that a 17-year-old singer opted for this track?
Speaking of Whitney Houston ... Siobhan Magnus unleashed a version of Houston and/or Mariah Carey's "When You Believe." It proved just as freaky and schizophrenic as Magnus herself -- first a breathy ballad, then a screechy soul number, then back to a breathy ballad. The butterfly-adorned singer may have one of the biggest voices in the competition, but with each week that waltzes by she seems less focused. She keeps striving to come across as a radio-friendly diva, when in reality she's more like a singing performance artist at an underground coffee house who gets the audience's attention through her "unconventional antics."

Since Seal's "Kiss from a Rose" from the "Batman Forever" soundtrack was likely too challenging, Michael Lynche opted for the next best thing: Chad Kroeger's "Hero" from "Spider-Man." Big Mike sang it just fine, though emulating the singer from Nickelback can't be very demanding. While Mike was strumming his guitar, it was hard not to notice he might be the most out-of-shape bodybuilder on the planet. His arms looked like Gabourey Sidibe's legs.
At last, some actual inspiration. Crystal Bowersox may have chosen a song that's been covered to death (The Impressions' "People Get Ready," penned by the great Curtis Mayfield), but she owned it during the evening's telecast. Not only did she eschew performing with an instrument for the first time on "Idol," she actually displayed some genuine emotion when she shockingly, charmingly burst into tears at the song's conclusion. She explained that she had seen her dad in the audience, who had previously never attended a taping. It was the "moment" the "Idol" season had been longing to experience.
Bottom three: Tim Urban, Aaron Kelly and Siobhan Magnus.
Going home: Aaron Kelly. Sorry kid. You're good, but you have no chance of winning.