'American Idol' gets a little bit country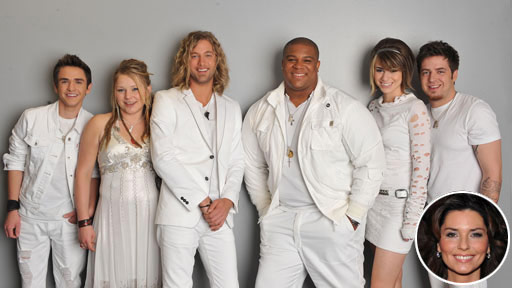 Country superstar Shania Twain has sold 65 million records. But up until tonight's episode of "American Idol," I could only name two of her songs.
Happily, the remaining six finalists didn't even pick one of those discernible hits (the blasphemous "Man! I Feel Like a Woman!"). Instead, they dove into the not-very-twangy Twain catalog, emerging with a congenial mix of passable tunes.
Correct me if I'm wrong, but was this the first show of the season to feature a slate of songs that had never once been played on the series before?
Lee DeWyze ("You're Still the One") sounded more Dave Matthews-esque than ever on the only other song I could name by Twain. He did manage to admirably change up the melody on a track that is already loaded with hook after hook. Judge Randy Jackson mentioned that it is "one of the greatest songs of all time." I'm wondering how big Jackson's list is. Ten songs? One hundred? One thousand?
Twain seemed rather giddy at the prospect of Michael Lynche ("It Only Hurts When I'm Breathing") covering one of her tunes. She likely doesn't get a lot of love from the smooth R&B crowd. Mighty Mike did what he does best: Sing competently while boring the crap out of you. Even while it was happening, I couldn't hum the melody.
Casey James ("Don't") looked more confident than ever for his seated, acoustic showcase. As always, Casey displayed the tremendous ability to never make a mistake. No lyrical flubs, no rushing, no pitch problems. The guy is certainly a pro. Yet he remains a stylistic enigma. He could make a singer-songwriter record. Or a country crossover record. Or a blues-rock one. Or an instrumental guitar one. Or a jam band one. Or ....
Poor Crystal Bowersox ("No One Needs to Know"). Despite singing rings around her other more-lauded female counterpart (check out the control on her falsetto), she got nothing but shrugs from the four judges. Crystal took the country theme to heart more than the other competitors, employing a quartet of musicians that included standup bass and lap steel to deliver a two-stepper that seemed more like an outtake from "Austin City Limits." I thought it was one of the cooler moments of the night. But maybe it was too "rural" for the coastal judges.
On a side note, host Ryan Seacrest announced last week's "Idol Gives Back" show netted its charity causes $45 million. Or as I like to call it: Simon Cowell's annual salary.
Poor Aaron Kelly ("You've Got a Way"). One day this 17-year-old is going to wake up, and his "Idol" experience will be over. So he'll go back to calculus class and sketch Idol logos on his notebook. But until then, the kid's voice and unassuming manner have kept him in the competition. Tonight, he nailed another ballad -- though a toned-down one. He altered the lyric of "It's in the way we make love," not because it sounded weird coming from a virginal teenager, but because he explained he was singing it to his mom.
Obviously, the judges were pressed for time with the ticking clock of the last performance because otherwise they might have actually criticized Siobhan Magnus ("Any Man Of Mine") for her awful showing. Shivers now occupies the Vote for the Worst spot vacated by the "adorable" Tim Urban. She definitely earned the distinction by putting on a Vegas-meets-Berlin version of a Hollywood-meets-Nashville track. Shiv strutted around the stage sounding like an asthmatic, barely mustering enough output to ping a VU meter. Perhaps she was saving up her breath for the lone earsplitting note at the end of the song. I'll admit: As terrible as Shiva the Destroyer was, I'm still more excited to see what she does next week than Aaron or Michael.
Bottom three: Aaron Kelly, Michael Lynche and Siobhan Magnus.
Going home: Michael Lynche. All of Tim Urban's fan votes from last week are likely going to Aaron instead of you.