Small-screen 'Idol' renders big-screen songs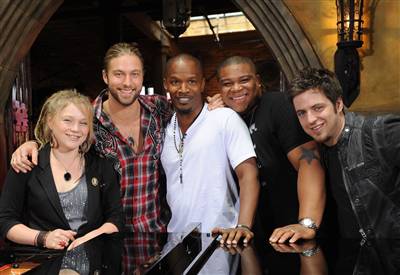 Music and film -- my two favorite things. And that's what got combined on "American Idol," in its own peculiar, intriguing and slightly unsatisfying way.
Tonight's theme promised "songs from the movies," which gave the four remaining contestants nearly 100 years worth of material. The broadcast delivered a parade of strange choices, emotional highs, surprisingly tasteful guitar playing and an overdose of mentor Jamie Foxx. The comedian-turned-actor-turned-pop star seemed a perfect choice for movie night, except for the fact that he came across (for the second consecutive season) as one of the most annoying people on the planet. "Look at me. Me. Me." I'm surprised he didn't jump up onstage during the performances like Kanye West and try and wrestle the mic away from the contestants.
Lee DeWyze (Seal's "Kiss From A Rose" from "Batman Forever") kicked off the night with a song so overplayed on "Idol" that it rivals "I Believe I Can Fly" or "Sugar Pie Honey Bunch" for sheer number of versions served. Add to that it's a nearly an impossible track to pull off in a live setting. Lee gave it his ingratiating growl, but even he struggled with pitch throughout, usually leaning toward flat.
Michael Lynche (Michael Jackson's "Will You Be There" from "Free Willy") selected a song from a flick even more forgettable than "Batman Forever." It was pure gospel nonsense, complete with robed choir members descending a staircase behind him. Only a Baby Jesus descending from the ceiling on a cloud-shaped pillow could have made it more pretentious. Keep in mind, this was the theme song to a movie about a killer whale.
Not since Kristy Lee Cook performed "God Bless the USA" has a contestant made such a shrewd, calculated choice to keep from being voted off the island. Casey James (Simon and Garfunkel's "Mrs. Robinson" from "The Graduate") appealed directly to the soccer mom demographic with his ode to May/December romances. Seated among a throng of audience members, equally made up of pre-teens and MILFs, Casey strapped on a mandolin for his less-than-stirring rendition of the 1967 fave. Regardless, it was still a significant improvement from his Sinatra butchering of the previous week.
Crystal Bowersox (Kenny Loggins' "I'm Alright" from "Caddyshack") went for the one Loggins soundtrack effort that makes me not want to pop my head in a microwave. Finally, a song with a little energy! (Just picture that gopher grooving to the shuffling beat.) She sang it with more bluesy firepower than it's probably ever been sung before, though it was just a precursor to her real highlight of the evening.
Since four songs do not make an hour-long TV show, the contestants got paired up for two additional tunes.
Lee and Crystal performed a duet of Glen Hansard and Marketa Irglova's "Falling Slowly" from the brilliant 2006 Irish pic "Once." They fully captured the escalating emotion of the Oscar-winning track -- one of the great musical moments ever shared onscreen by a guy and gal. It was arguably the best performance of the entire season.
Also quite good were the improbably paired Casey and Michael, who tackled Bryan Adam's "Have You Ever Really Loved a Woman?" from 1994's "Don Juan DeMarco." Their ostensibly disparate voices blended comfortably, and the Spanish-inspired ballad benefited greatly from Casey's choice flamenco riffs on his nylon-stringed acoustic.
The duets were so good that it begged the question: Shouldn't they all just form a band?
Going home: I know I've been predicting Michael Lynche would be exiting for weeks now, all while he continues to hang around. But I also predicted weeks ago that the final three would be Lee, Crystal and Casey, so I'm sticking with that no-brainer of a trio.