Final three 'Idol' contestants get picky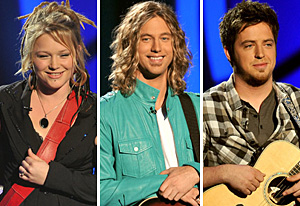 Hard to believe it's down to the final three contestants ... unless you've been writing a weekly blog about this year's "American Idol." In that case, the five-month season has felt five times longer than that.
Yes, folks, this is definitely the weakest "Idol" since Jordin Sparks was crowned on season 6. It's not the level of talent -- this year's contestants are pretty competent compared to final three performers of the past. No, it's the level of drama that's at an all-time low. Like watching a movie after the trailer has given away the ending, "American Idol" is handcuffed by its inescapable finale matchup.
Ten weeks ago I predicted the show would become a duel between
Lee DeWyze and Crystal Bowersox, with Lee ultimately winning it all. (And that was back when Crystal and Michael Lynche had all the momentary mojo going their way.)
Tonight's telecast did nothing to alter that inevitable outcome. But it did feature some musical moments of note.
Casey James began with his pick of the obscure "OK, It's Alright with Me" by Eric Hutchinson. Like the nearby city of Hutchinson, it left me with little impression.
Opportunely, Casey got to return with a "judges' pick," which provided "Daughters" by fellow heartthrob John Mayer. It was catchy, slightly low-key and completely lacking the type of big moment the sinking singer needed to have a fighting chance of survival.
Crystal picked "Come to My Window" by Leavenworth native Melissa Etheridge (let's see how many more Kansas references I can weave in this week). For a song traditionally defined by its emotional energy, Crystal appeared bored with it. She also seemed sick. While the judges predictably blathered on about how great she was, I couldn't help but notice she was uncharacteristically straining to hit her notes and often out of breath.
On the flipside, the judges handed her Paul McCartney's "Maybe I'm Amazed." (I remember seeing McCartney once in an interview talking about how this song was as good as anything he ever put out with The Beatles.) Divorced from her guitar and clad in black knee-high boots, Crystal gave a passionate, if somewhat faithful interpretation of the song. Although, again, she fumbled some of the ethereal vocal runs she normally nails.
Lynyrd Skynyrd often gets a bad rap. But Lee picked "Simple Man," the iconic Florida band's best song in my opinion. (Listen to Drive By Truckers' incredible 2001 album "Southern Rock Opera," and I guarantee it will alter your perception of Skynyrd.) Lee's soulful, rendition really emphasized why he is the contestant to beat.
From Lynyrd Skynyrd to Leonard Cohen! The judges selected "Hallelujah," the Cohen-penned, Jeff Buckley-covered tune that was performed so memorably two years ago by Jason Castro -- who just played in Lawrence a few weeks back. (Note: Third Kansas reference.) At first, I was surprised by the choice, especially considering it had already been done by Tim Urban this season. But the song's emotional peaks and valleys are hard to deny, and Lee dug deep into the material. Regrettably, he was escorted by too many others in the endeavor. The performance began with merely his voice and guitar, but it eventually included a rock band, gospel choir and screechy horn section. Only thing missing was a corps of Scottish bagpipes. It was pure overkill. Think how much cooler it would have come across it if had been just Lee and the choir -- or just Lee.
Going home: In the most no-brainer decision of the season, Casey James will leave the show, with nothing more than his male-model looks, solid voice and excellent guitar playing to accompany him. Poor guy.