Momentum shifts on 'American Idol' finale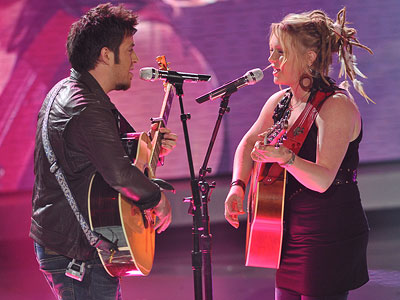 The ninth season of "American Idol" entered its final night of competition, with titans Lee DeWyze and Crystal Bowersox making their case for ownership of the coveted, occasionally cursed title.
It was a season that began with turbulent change and ended amid even more turbulent change. Unfortunately, in between all that chaos was a whole bunch of mind-numbing tedium. Dull, weird and unfocused, "Idol" suffered as viewership declined and criticism skyrocketed.
So before assessing the final sets of performances, I thought it would be fair to judge the judges this year. Some of them were new. Some (perhaps many) imminently departing. Some didn't want to be there. Some seemed very happy to be employed anywhere.
Ellen DeGeneres Let's start with the newest judge, Ellen, who probably brought the most potential to the table. Perhaps it was her complete lack of chemistry with any of her fellow panelists, or maybe it was just old-fashioned politeness, but the usually reliable comedian didn't offer much entertainment value this year. Ellen seemed to have got it in her head she needed to fill the "nice judge" role vacated by the over-medicated and under-interesting Paula Abdul. Ellen failed to understand she got hired to be funny. Sure, she had some nice quips here and there. But far too often she said something generically nice and shut up. Hey, you could hire most people's moms to do that. Rating: C-
Randy Jackson Back in the '80s when I often flipped through the pages of Bass Player magazine, I had nothing but respect for Randy. But the bassist-turned-producer didn't have to open his mouth in those ads for the latest Alembic gear. That proved problematic on a television series where Randy's job was to talk. Unable to get through a sentence without using a cliche and incapable of conjuring even the proper words when addressing people (In tonight's show he called Crystal "man" and "dude" in the same sentence. Classy, my friend.), Randy's shtick got thinner and thinner as the season progressed. If college folks haven't yet created a campus drinking game based on Randy's critiques, here's a primer for next year:
Take one drink if Randy says, "Listen," "Check it out" or laughs three times before starting his appraisal.
Take two drinks every time he tells a contestant, "It was just alright."
Take three drinks whenever he pitches the mic to Ellen with, "What do you think, E.?"
Chug the glass whenever Simon Cowell's name is announced and Randy boos.
Please, Randy, just go back to playing bass. Rating: D-
Kara DioGuardi Her musical resume is formidable, and she can likely out-sing any contestant who's ever been on the "Idol" stage. Yet in her second season, Kara fulfilled two roles. One, as the Condescending Bitch ("That's just not good enough, sweetie.") and, two, as the Know-It-All Insider ("That's what I call artistry!"). It's not surprising that Kara has achieved most of her success away from the spotlight -- as a songwriter for other artists, an anonymous session singer, a vocal mentor, etc. Ironically, once the cameras rolled, Kara struggled to find her voice. Rating: C-
Simon Cowell The centerpiece of the show's winning formula spent much of his final season looking like he left his Jaguar's motor running in the parking lot. Disinterest. Disengagement. Disdain. Simon provided plenty of "disses." And yet he was still the only judge worth listening to -- the only voice that mattered. Even at his most curmudgeonly and most underdressed, Simon bestowed his genuine spin on things. That's kind of the point of being a critic. Rating: B
As for the outcome of the show ...
The night's performances could be explained in one sentence: Lee played it safe, while Crystal played to win.
All season Lee thrived on his emotion, authenticity and keen song selections. Tonight he only exhibited the latter -- and those barely helped without the former two strengths. Even on a tune as peppy and anthemic as U2's "Beautiful Day," Lee appeared to be performing like he was nursing a bleeding ulcer.
Meanwhile, Crystal absolutely brought it. All three of her songs revealed a different side of her folky/gritty prowess. This was all the more impressive considering she was forced to deliver a version of the sorority karaoke night classic "Black Velvet." Did you think it was suspicious that the "producer's pick" saddled Crystal with this awful stripper-pole fave by one-hit wonder Alannah Myles, and Lee got the hipper, deeper "Everybody Hurts" by R.E.M.? No question for whom the suits at 19 Entertainment were rooting.
Winner: Lee had it locked up until this show. Now it's a toss-up. I guess I'm obligated to stick with my original prediction and pick Lee. But Crystal has more than earned it at this point.