'American Idol': The fix is on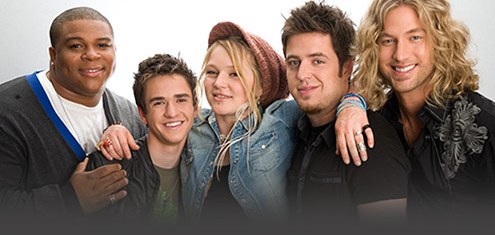 "American Idol" is rigged.
Okay, maybe rigged or fixed is too strong a word. Specifically, it's more like the show is heavily tilted toward certain contestants winning.
I had previously thought this claim to be merely conspiracy theory nutjobbery ... until last week's show.
That's when frontrunner Crystal Bowersox was dressed-down by the cabal of judges -- Simon Cowell, Ellen DeGeneres, Kara DioGuardi and Randy Jackson -- for delivering a below average performance (untrue) that put her at risk of being voted out. The commentary was delivered in robotic unison, as if by the brainwashed soldiers in "The Manchurian Candidate." ("Raymond Shaw is the kindest, bravest, warmest, most wonderful human being I've ever known in my life.") It was clear the judges had colluded previous to the show and decided that if they continued to heap more praise on their pet Crystal, viewers might believe she was safe and neglect voting for her.
Meanwhile, Siobhan Magnus gave a truly abysmal performance -- one that ultimately got her booted by America, despite the judges all offering one-note responses about how great it was.
Well, the judges' reverse psychology worked. Fall-guy Magnus is now off the show, and with her the last semblance of any chance of being surprised by this forgettable season.
There's simply very little mystery left with this final five, as evidenced by Tuesday's show. As I predicted when we were introduced to the season's top 10, it still comes down to a battle between "the Hippie Girl" and "the DMB Guy."
This week's Sinatra Night theme did little to cater to those archetypes, somewhat leveling the playing field for the final five. The night's big winner was the always amusing Harry Connick Jr. as arguably the best all-time mentor. This was bolstered by the fact that he didn't just listen to a contestant's run-through and give hollow advice, but instead arranged the material AND performed in the live backing band.
He wasn't the only one having to work hard during Sinatra Night. Unlike, say, Shania Twain Night, the material the contestants chose was truly challenging. There would be no way for them to fake their way through these orchestral labyrinths.
First up was Aaron Kelly ("Fly Me to the Moon"), the high school contestant who likely had heard of the song because it was also the name of a recent animated 3-D movie. Aaron sounded fine but looked ridiculous. The one thing about covering a Sinatra song is that Ole Blue Eyes brought so much gravitas with him on-stage, that it's impossible for a non-grownup to emulate that without seeming phony
(It brought to mind Phil Hartman's Sinatra impression on "SNL" where he threatens a younger rock star, "You don't scare me. I've got chunks of guys like you in my stool!")
I thought Casey James ("Blue Skies") might step it up tonight after finding himself in the bottom three last week. No such luck. The man who typically appears so at ease with an electric guitar and chest-baring shirt looked quite terrified with but a mic and a ponytail holder separating him from a 30-piece orchestra. His shaky vibrato even got compared to that of a lamb by judge Kara.
Crystal Bowersox ("Summer Wind") never looked better than in her femme fatale-meets-mermaid evening wear. (I love watching how the "Idol" hair and makeup people try and disguise the fact she has dreadlocks each week.) Crystal blended into the theme night unexpectedly well, capturing the phrasing and subtlety of the Johnny Mercer-penned hit. Yet ... she was virtually indistinguishable from someone you might find crooning the song in a hotel bar. Proficient? Yes. Memorable? No.
Speaking of unmemorable, then came Michael Lynche ("The Way You Look Tonight"). Likely waiting all season for a shot at wearing a fedora when it didn't look so ludicrous, Big Mike tried to make a big splash with this big hit backed by a big band. Big deal. Mike's a talented dude, but he's incapable of elevating above his cover band roots. He might be a hoot to watch performing the after-dinner show on a cruise ship, but I can't imagine buying an album by the man.
Despite being mercilessly teased by Connick Jr., Lee DeWyze ("That's Life") was the one who had the last laugh on Tuesday. He managed to seem both utterly authentic and wholly contemporary during the closing number. As I said weeks ago, the whole season has been leading up to the moment Lee will square off against Crystal. And, barring a last-minute meltdown, Lee is poised to win.
Bottom three: Aaron Kelly, Casey James and Michael Lynche.
Going home: Michael Lynche. Despite Casey's baaaaad performance, his legion of (female) fans will spring into action with enough votes to save him for another round.
Note: How fun would it have been to watch Siobahn render the Sid Vicious version of "My Way," as she had threatened to do prior to getting the ax?