Join the brain rot partaaaay!
Hello, and welcome to "Good Blog Almighty!" My goal with this blog is to provide you with a weekly dose of celebrity "who done what?! where?! when?! why?!"
I adore celebrity gossip. After many, many years of indulging in this guilty pleasure but always feeling somewhat ashamed of it, I've finally embraced it.

Sure, it's silly. Sure, most of it is brain rot. But it's fun, and I love pop culture. So, I want to share my love for all things celebrity with you. I know you may be thinking...I must have way too much time on my hands and/or I must be a rather dim bulb to like this type of stuff.

It's not like that, I swear. I'm a college educated Lawrencian, Business Week- and New Yorker-subscribing married working mom who just happens to dabble in celebrity gossip on the side. Ok, enough justification.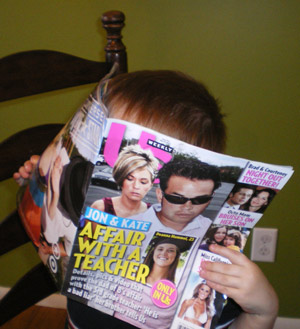 This blog will be a weekly update of my top celebrity gossip stories...sort of a Cliff's Notes of the week's top stories (according to yours truly). Did I mention that I have an unofficial blog consultant? He's 2 years old and is rather rad, if I do say so myself. Junior will contribute to the blog as often as he sees fit. His insight is invaluable.
So...let's get ready to rumble, people.
1)  Papa's Got A Brand New Face!—Reality "star" Bruce Jenner recently got yet another face lift, according to his stepdaughter, Kim Kardashian (these folks, if you don't know, are "stars" of the reality show "Keeping up with the Kardashians").  I don't think he looks all that different in this photo, but to be honest, his face is pulled so tight that I don't think one more face lift is really going to make a huge difference.  Kim said Bruce just wanted to correct a bad face lift from back in the day...mmm hmm.  That's what they all say...it's just corrective surgery.  Sure.
2) Paulina Porzikova Will Not Continue As 'Top Model' Judge—So...for all you ANTM (that's America's Next Top Model) fans out there (I used to be a CRAZY FAN, but not as much these days)...here's some semi-interesting information about one of the hosts who just got the boot. That is so not fierce of you, Tyra.  
3) Drew Barrymore and Justin Long need to MAKE UP THEIR MINDS—Seriously, are they dating or no? We always get the "just good friends" bit, but then why the obvious hickey? At least put some concealer on that. Not that I've ever done that to cover up a hickey...just heard it works, that's all. I know everyone says all they can think of when they see Justin is the Mac guy, but for me it's different. When I see him all I can think of is that show "Ed" and he was somewhat charming on that show. But I digress.
4) Rumor of the day: Lindsay Lohan is pregnant—Yowza. All I can really say is, please God, no. This would be so unfortunate. This is when I really, truly hope the gossip is that...just gossip. But it's nevertheless fun to talk about, right?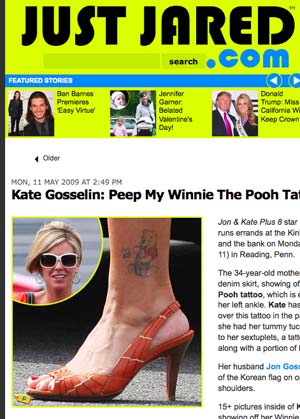 5) Kate Gosselin: Peep My Winnie The Pooh Tattoo!—My apologies to all of you out there with a Winnie the Pooh tattoo (I don't personally know anyone, but I hate offending people, believe it or not). But seriously, this made my week! I was actually eating my lunch when I read this and it almost shot out my nose because I was laughing so hard.

Who the bleep gets this tattoo? Oh, wait...it IS Kate Gosselin from Jon and Kate Plus 8. To give her some credit, she does say she wants to have it removed. Gah, she might as well keep it. It's an awesome conversation piece.

Oh, just had to add that I just showed this tattoo photo to Junior. I asked him who it was (expecting him to say "Winnie the Pooh!") and instead he pointed to Kate and said, "It's Mommy!" She's an attractive lady, but I must say it…the '90s haircut has to go…and I DO NOT have this haircut, people.

Oh, and notice I'm not commenting on the Jon and Kate cheating scandal that is rocking all our worlds. I don't care for this show necessarily, and these people chose to put themselves out there in the public eye. But I'm a Mom, and I can't help but think of their little kids during all this mess. So I'll refrain for now…at least until something super exciting happens…(evil smile).
I loved this blogger's take about the Gosselins.
6) I hate the whole "LOL" phenonmenon, even though I'm a hypocrite because I use it sometimes. It doesn't mean I like it. It's just easy to use when you are literally laughing out loud...as I was doing while reading this amazing post on one of my favorite websites, gofugyourself.com. I thought it was so amazingly funny because Beyonce's new movie "Obsessed" looks SO TERRIBLE in a hilarious way. Check out this awesome clip where Beyonce goes a wee bit overboard in her acting at about the 3:30 mark:
I may have to actually rent this movie through Netflix for my next "girls' night." LOL.

7) Maya Rudolph Expecting Second Child—I am so excited about this news. I love Maya Rudolph (former SNL cast member and all-around amazing actress/comedienne). Did anyone else out there watch Kath & Kim on NBC? Sometimes I think my best friend and I were the only ones...but anyway, Maya Rudolph played a hilarious life coach on the show and rocked my socks…she was so funny. So this news made me smile. Baby news in general makes me smile. I'm a softy like that. Babies rock.

8) Cher, 62, Wears See-Through Bodysuit—My eyes!!!!!!!! But seriously, at first I thought this was super duper gross. But then I thought and thought (and thought) about it and realized that hey, if Cher is proud of her rockin' bod at the ripe age of 62, then why not show it off in a see-through bodysuit?

Plus, I'm no fool. I'm probably going to be on my way to becoming a big ol' sack of flesh and polyester at Cher's age (God help me), so I'm proud of her for keeping it all relatively firm and fabulous. Oh, wait…maybe she's had some plastic surgery help, no? Well, whatever. Work it, Cher. You cannot turn back time, but you can rock a see-through bodysuit.

9) Blind items: Monday and Tuesday—I LOVE blind items. I HATE that they are blind items. I want to know who does these things! But then it wouldn't be as fun, right? I'm scared the third blind item here might be our little messed up darling, Lindsey Lohan. And you think you have issues.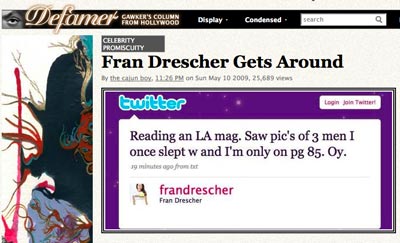 10) Fran Drescher Gets Around—Nasteeeeee. Gotta love (or hate?) Twitter.

Until next week…thanks for reading!