Top 10 F*@king Movies with Swearing
I'm having a bad day. A real bad day. So this is what you get, folks: a list of my top 10 favorite swearing movies. Be it a memorable scene, or an overall, total badass bout of creative cursing, these 10 films popped in my head tonight as I sit here in a terrible funk. The best thing about swearing? It's liberating. It feels good to get out of your system, and it's even better when it's loud. Anyway, if you are easily offended, skip this list. If you think a list of "bad" words (which ironically are in constant flux, and always will be as culture changes) will create "bad" people, then you need serious help. I believe there is a time and place for this kind of language, and for me-right here-that time is now. Enjoy my list of memorable cursing in the movies. Or fuck off.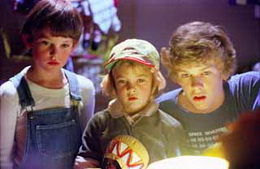 10. E.T. The Extra-Terrestrial (1982)This movie may have only one memorable swearing scene in it, but for any adolescent growing up in the 80s, the moment where Elliot calls his brother "penis breath" at the dinner table was a big freaking deal. This is a kid-oriented, PG, Steven Spielberg-directed fantasy film, mind you. That word (or those two, out together) was about as shocking as it was confusing. Why would anyone have penis breath, I thought? All good things must come to an end, of course, so in 2002, when Spielberg Lucas-ized "E.T" for another home video release, he released a version without the offending word. (Also gone? His Mom scolds him on Halloween for dressing like a hippie in stead of "a terrorist," FBI agents guns are replaced with less-scary walkie-talkies, and E.T.s lips re matched digitally to his mouth.) Make sure you know which DVD you're getting before you buy this one. Or just watch it here (at 6:30).Michael: Maybe an elf or a leprechaun. Elliot: It was nothing like that, penis breath!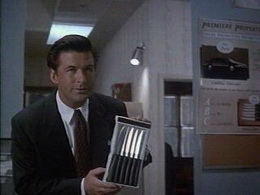 9. Glengarry Glen Ross (1992)This David Mamet-written movie, adapted from his own play, was jokingly referred to by its excellent cast (Al Pacino, Kevin Spacey, Jack Lemmon, Ed Harris, Alan Arkin, Alec Baldwin, Jonathan Pryce) as "Death of a Fucking Salesman." The inner-workings of a sad and desperate real-estate office have never been so electrifying. Mamet's dialogue crackles like the foul-mouthed poetry it is. This is a movie acted by actors who know how to swear-they know how to get every bit of mileage out of each word. But it's also about the words around it, and how they can cut someone down to size in a second. Watch it.Blake: You got leads. Mitch & Murray paid good money. Get their names to sell them. You can't close the leads you're given, you can't close shit, you are shit, hit the bricks pal, and beat it, 'cause you are going out. Levene: The leads are weak. Blake: "The leads are weak." The fucking leads are weak? You're weak. I've been in this business fifteen years... Ross: What's your name? Blake: Fuck you. That's my name. You know why, mister? 'Cause you drove a Hyundai to get here tonight, I drove an eighty thousand dollar BMW. That's my name.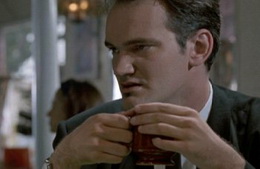 8. Reservoir Dogs (1992)Tarantino's first has a "fucks per minute" score of 2.69, which is pretty dam impressive. But what's really impressive is that, like Mamet, he's able to take the foul-mouthed lingo of his criminal protagonists and twist it up so that it sounds fresh and new. Of course, he gave himself one of the most memorable bouts of dialogue in the entire film, which was also shocking for its realistic violence (especially the part where Michael Madsen slices off a man's ear). Here's Tarantino finding his writing "voice"-pioneering the use of silly pop culture references coming from big tough guys in movies and mixing it up with as many curse words as possible:Mr. Brown: Let me tell you what 'Like a Virgin' is about. It's all about a girl who digs a guy with a big dick. The entire song. It's a metaphor for big dicks. Mr. Blonde: No, no. It's about a girl who is very vulnerable. She's been fucked over a few times. Then she meets some guy who's really sensitive... Mr. Brown: Whoa, whoa, whoa, whoa, whoa... Time out Green Bay. Tell that fucking bullshit to the tourists. Joe: Toby... Who the fuck is Toby? Toby... Mr. Brown: 'Like a Virgin' is not about this nice girl who meets a nice fella. That's what "True Blue" is about, now, granted, no argument about that. Mr. Orange: Which one is 'True Blue'? Nice Guy Eddie: 'True Blue' was a big ass hit for Madonna. I don't even follow this Tops In Pops shit, and I've at least heard of "True Blue". Mr. Orange: Look, asshole, I didn't say I ain't heard of it. All I asked was how does it go? Excuse me for not being the world's biggest Madonna fan. Mr. Orange: Personally, I can do without her. Mr. Blue: I like her early stuff. You know, 'Lucky Star', 'Borderline' - but once she got into her 'Papa Don't Preach' phase, I don't know, I tuned out. Mr. Brown: Hey, you guys are making me lose my... train of thought here. I was saying something, what was it? Joe: Oh, Toby was this Chinese girl, what was her last name? Mr. White: What's that? Joe: I found this old address book in a jacket I ain't worn in a coon's age. What was that name? Mr. Brown: What the fuck was I talking about? Mr. Pink: You said 'True Blue' was about a nice girl, a sensitive girl who meets a nice guy, and that 'Like a Virgin' was a metaphor for big dicks. Mr. Brown: Lemme tell you what 'Like a Virgin' is about. It's all about this cooze who's a regular fuck machine, I'm talking morning, day, night, afternoon, dick, dick, dick, dick, dick, dick, dick, dick, dick. Mr. Blue: How many dicks is that? Mr. White: A lot. Mr. Brown: Then one day she meets this John Holmes motherfucker and it's like, whoa baby, I mean this cat is like Charles Bronson in the 'Great Escape', he's digging tunnels. Now, she's gettin' the serious dick action and she's feeling something she ain't felt since forever. Pain. Pain. Joe: Chew? Toby Chew? Mr. Brown: It hurts her. It shouldn't hurt her, you know, her pussy should be Bubble Yum by now, but when this cat fucks her it hurts. It hurts just like it did the first time. You see the pain is reminding a fuck machine what it once was like to be a virgin. Hence, 'Like a Virgin'. Joe: Wong?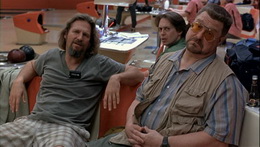 7. The Big Lebowski (1998)260 "fucks" in less than two hours isn't a record, but for some reason the cursing in this movie, mostly bellowed at top volume to Donny (Steve Buscemi) by John Goodman, has really caught on with audiences. It's no secret that "The Big Lebowski" is a modern cult classic; it's just that I personally have never gotten out of it what everybody else does apparently. Either way, its legacy in swearing is too huge to ignore. Many will find this way too low on this list, but as one of the Coen brothers' weakest efforts (second maybe only to "The Ladykillers"), you're lucky it's on here at all. It probably wouldn't be if it wasn't for this terrific little fan film, a two-minute edited version of the movie's highlights: "The Fucking Short Version of The Big Lebowksi" Walter Sobchak: I told those fucks down at the league office a thousand times that I don't roll on Shabbos! Donny: What's Shabbos? Walter Sobchak: Saturday, Donny, is Shabbos, the Jewish day of rest. That means that I don't work, I don't get in a car, I don't fucking ride in a car, I don't pick up the phone, I don't turn on the oven, and I sure as shit don't fucking roll! Shomer shabbos! The Dude: Walter... Walter Sobchak: Shomer fucking shabbos. The Dude: Oh fuck it. I'm out of here.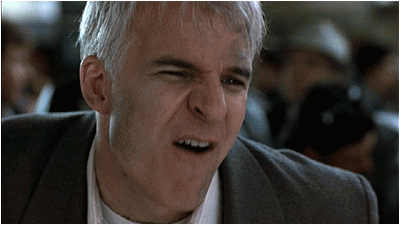 6. Planes, Trains, and Automobiles (1987)I think we've all had a moment like this before. When Steve Martin's weary traveler Neal Page is at the end of his rope trying to get home for Thanksgiving, he goes to a car rental agency and is greeted with the sweetest fake smile ever, from none other than the terrific Edie McClurg (who you've seen a million times before but probably never known her name). I could blabber on about how great this scene is, but I think it speaks for itself. 19 "fucks" in just over a minute. Read below or watch here (start at 2:24).Car Rental Agent: [cheerfully] Welcome to Marathon, may I help you? Neal: Yes. Car Rental Agent: How may I help you? Neal: You can start by wiping that fucking dumb-ass smile off your rosey, fucking, cheeks! Then you can give me a fucking automobile: a fucking Datsun, a fucking Toyota, a fucking Mustang, a fucking Buick! Four fucking wheels and a seat! Car Rental Agent: I really don't care for the way you're speaking to me. Neal: And I really don't care for the way your company left me in the middle of fucking nowhere with fucking keys to a fucking car that isn't fucking there. And I really didn't care to fucking walk down a fucking highway and across a fucking runway to get back here to have you smile in my fucking face. I want a fucking car RIGHT FUCKING NOW! Car Rental Agent: May I see your rental agreement? Neal: I threw it away. Car Rental Agent: Oh boy. Neal: Oh boy, what? Car Rental Agent: You're fucked.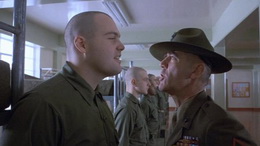 5. Full Metal Jacket (1987)This Stanley Kubrick movie would be higher on the list if it weren't for the fact that R. Lee Ermey ended up making an entire career out of parodying the creatively foul-mouthed drill sergeant that he so perfected here. The 99 credits on his imdb list are filled with character names like "Sergeant," "Drill Sergeant," "General Wallace," "General Barnarky," "Colonel O'Malley," "Colonel Ben Wilder," and "Army Sarge"-even, intriguingly-"General Puddles." Even still, it's hard to shake the fierce performance he gave in "Full Metal Jacket," harassing poor Private Pyle (Vincent D'Onofrio) to do something rash but not wholly unexpected. Ermey took trash-talking to a new level in this one.Gunnery Sergeant Hartman: Who said that? Who the fuck said that? Who's the slimy little communist shit, twinkle-toed cocksucker down here who just signed his own death warrant? Nobody, huh? The fairy fucking godmother said it. Out-fucking-standing. I will PT you all until you fucking die. I'll PT you until your assholes are sucking buttermilk.Gunnery Sergeant Hartman: Are you quitting on me? Well, are you? Then quit, you slimy fucking walrus-looking piece of shit! Get the fuck off of my obstacle! Get the fuck down off of my obstacle! Now! Move it! I'm going to rip your balls off so you cannot contaminate the rest of the world! I will motivate you, Private Pyle, IF IT SHORT-DICKS EVERY CANNIBAL ON THE CONGO!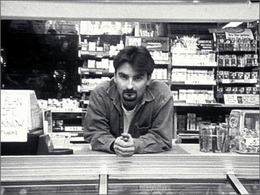 4. Clerks (1994)Kevin Smith's no-budget, black-and-white debut was originally rated NC-17 for-get this-language. That's it. No violence, no nudity, just bad words. Miramax hired civil liberties lawyer Alan Dershowitz to appeal the decision, and the MPAA relented and re-rated the film with an R rating. Ironically, the MPAA did so without altering a single frame or word of the picture. What was so groundbreaking about this film is that the characters talked like real people of the time. Well, OK, admittedly, they said shit out loud that most people were only thinking, but that is what made it so much fun. The amount of memorable scenes with swearing are too many too mention, but let's just say that the number 37 will always have a special place in my heart. Read below or watch here.Jay: I feel good today, Silent Bob, we're gonna make some money, then you know what we're going to do? We're gonna go to that party, we're gonna get some pussy, and I'm gonna fuck this bitch, I'ma fuck this bitch, I'll fuck ANYTHING THAT MOVES! Yo, what the fuck you lookin' at, I'll kick your fuckin' ass! Shit yeah. Doesn't that fucker owe me 10 bucks? You know, fuckin' tonight, we're gonna rip off this fucker's head, and take out his fuckin' soul. Remind me if he tries to buy something, I'm gonna shit in the motherfucker's bag. Hey, what's up baby? What's up, sluts?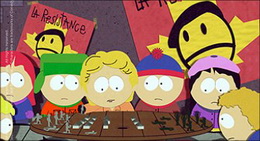 3. South Park: Bigger, Longer & Uncut (1999)Trey Parker and Matt Stone undoubtedly have the most unique combinations of curse words and animal references ever. The great thing about all the swearing in the "South Park" movie is that it exists for parents and censors to be horrified at, while also showing what terrible hypocrites people are who think that mere "dirty" words are more damaging than truly dangerous ideas. Read below or watch here.Kyle: You can't say "fuck" in school, you fucking fat ass! Mr. Garrison: Kyle! Cartman: Why the fuck not? Mr. Garrison: Eric! Stan: Dude, you just said "fuck" again! Mr. Garrison: Stanley! Kenny: Fuck! Mr. Garrison: Kenny! Cartman: What's the big deal? It doesn't hurt anybody. Fuck-fuckety-fuck-fuck-fuck. Mr. Garrison: How would you like to go see the school counselor? Cartman: How would you like to suck my balls? Mr. Garrison: What did you say? Cartman: I'm sorry, I'm sorry. Actually, what I said was... [picks up a megaphone] Cartman: HOW WOULD YOU LIKE TO SUCK MY BALLS, MR. GARRISON? Stan: Holy shit, dude.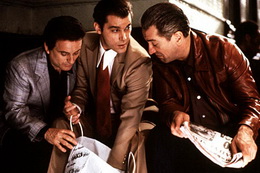 2. Goodfellas (1990)Technically, Martin Scorsese's "Casino" has 98 more "f" words in it, but it's way longer and nowhere near as good as this, one of the definitive mob movies of all time. According to imdb.com, "fuck" is used 296 times in "Goodfellas," for an average of 2.04 fucks per minute. I may be wrong, but if I were a betting man, I'd bet that most of those came from Best Supporting Actor winner Joe Pesci (no stranger to Scorsese's world, having "fucked" up "Raging Bull"). Rotten language is used so often in "Goodfellas" that, spoken by Pesci and an all-star cast such as Robert Deniro and Ray Liotta, it begins to develop its own cadence. As it gets repeated, the effect is dulling and it is more than just "swearing"-it becomes another essential part of the setting.Jimmy Conway: What's the fuckin' matter with you? What - what is the fuckin' matter with you? What are you, stupid or what? Tommy, Tommy, I'm kidding with you. What the fuck are you doin'? What are you, a fuckin' sick maniac? Tommy DeVito: How am I meant to know you're kidding? What you mean, you're kidding? You breaking my fuckin' balls? Jimmy Conway: I'm fuckin' kidding with you! You fuckin' shoot the guy? Henry Hill: He's dead. Tommy DeVito: Good shot. What do you want from me? Good shot. Fuckin' rat anyway. His family's all rats. He'll grow up to be a rat. Jimmy Conway: You stupid bastard, I can't fuckin' believe you. Now, you're gonna dig the fuckin' thing now. You're gonna dig the hole. You're gonna do it. I got no fuckin' lime. You're gonna do it. Tommy DeVito: Who the fuck cares? I'll dig the fuckin' hole. I don't give a fuck. What is it, the first hole I dug? Not the first time I dug a hole. I'll fuckin' dig a hole. Where are the shovels?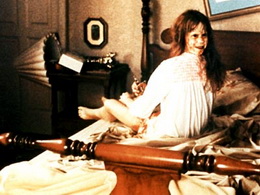 1. The Exorcist (1973)From the dulling sensation of "Goodfellas" to as shocking as language can get-it's "The Exorcist." What could be more offensive than rampant blasphemy? For shocking and really horrifying swearing, nobody beats the shit that came out of little Linda Blair's mouth in one of the scariest movies of all time. First, it was shocking to hear the mouth of a sailor on a 12-year-old girl. Secondly, it was shocking because she was possessed by the Devil, who felt very real and very powerful due to a methodical buildup of suspense from director William Friedkin and the growly, backwards-taped Satanic voice that overtook her. Thirdly, did I mention that her head spun around on her neck like a Sit 'n Spin? She tells the men of the cloth what they can do with their cross, that's for sure. I never thought anyone could talk like that when I saw this movie as a kid and I never wanted to hear it again, frankly.Father Merrin: I cast you out! Unclean Spirt! Regan: Shove it up your ass, you faggot! Father Merrin: In the Name of our Lord Jesus Christ! It is he who commands you! It is he who flung you from the gates of Heaven to the depths of Hell! Regan: Fuck Him! Father Merrin: Be gone... Regan: Fuck Him, Karras! Fuck Him! Father Merrin: ...from this creature of God!Regan: Your mother sucks cocks in Hell, Karras, you faithless slime.