Call to Action - Help me open for KISS!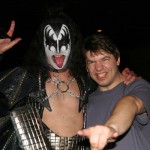 Anyone who knows me knows of my unhealthy obsession. KISS was the band that made me want to play the drums. They are singlehandedly responsible for getting me into rock n' roll. That is powerful stuff. Now, after almost 20 years of playing in bands, I have my first real opportunity to open for my childhood heroes (this Thursday at the Sprint Center in KC)!
You can help me realize that dream. Click here to go to KC station 101 The Fox and vote for my band The Dead Girls. (You have to register before you vote, but it doesn't take long.)
VOTING ENDS MONDAY DEC. 7 AT MIDNIGHT!
We had an early lead, but are losing ground every day. Please take a moment to vote and then spread the word to anyone who understands what a big deal this is. Think of it as the Make-A-Wish foundation for a grown-up who never grew up. Thank you so much!!! You have no idea what this means...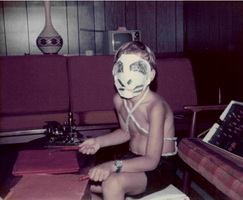 The pictures to the right are me, my brother, and our cousins in 1978. (That's me as Peter Criss with my crayon drumsticks and Lite Brite homemade KISS logo behind me!) At the bottom of the post is me as Peter Criss last year, as illustrated by artist Micah Smith. The pictures to the right are from when The Dead Girls opened for a KISS tribute band...now we want to open for the real deal!
Our guitarist Cameron wrote this on The Dead Girls' site:
I have been playing music in some capacity for about fifteen years now, and especially in these times of economic hardship, I have found myself wondering why more than once. A lot of the time, it's a ton of hard work for very little payoff. But, I knew that going into it, and whenever I find I am beating myself up about the choices I've made, I ask myself, "What did you expect? That you would open for KISS someday or something?"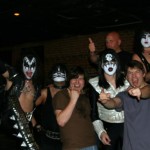 Never in my wildest dreams did I actually think this would be a possibility. But, as of last night, that possibility has materialized.
When 101 The Fox, a classic rock station (sorry…THE classic rock station) in Kansas City, announced their "Open For Kiss" contest, I had no idea it was even a thing. I was still trying to figure out how to win some free tix to the show, because my friend Eric (notorious KISS superfan and Dead Girls drummer) had done this through another radio contest that involved writing an essay about why you love KISS and sending in a photo that was KISS related.
Thankfully, Eric had some fake blood on hand (fresh from his appearance at the Air Guitar National Championships in DC), doused his tongue in it, and took a picture of himself in front of his velvet KISS…now how would he NOT win that competition?
So imagine the possibilities when this same guy hears about this OTHER radio contest, except this one involves having your BAND OPEN FOR KISS. Eric's tenacity (which is fueled by KISS like a junkie's joneses are fueld by smack) is one that is hard to match, and usually impossible not to notice.
He sent a demo of our song "Last Words", and the contest folks loved it. All of a sudden, holy SHIT dude, we could open for KISS?!?!?
Like a lot of the contests and shindigs we get involved in, our winning–our ability to share the stage with these rock gods–depends solely on the amount of votes we can gather up on the 101 The Fox website. You all have been amazing about voting for us in these contests, as we have won many of them, and it is continually appreciated by all of us. But, if you have helped us at all in the past, PLEASE don't hesitate to help us this time. Using words I'm sure Gene Simmons has used at some point in his life, "This is the BIG ONE."
Visit the 101 The Fox website to VOTE for THE DEAD GIRLS today, and thank you all!