Top 10 Romantic Comedies
So here we are in February, and another Valentine's Day is upon us, which means it's time for some recommendations that won't leave you feeling cheated in this much-maligned (and sometimes very rightly so) genre of movies. Don't forget my list of Top 10 Movies to Trick Your Sweetheart Into Watching on Valentine's Day, too. For easier digestion, it's divided in half: five for each sex. But this year, I'm playing it straightforward. These 10 movies (and all of the honorable mentions) will do you right this Valentine's Day, I promise. Believe it or not, I have more than 10 favorite romantic comedies, so let's start with my...Honorable mentions: Groundhog Day (1993), His Girl Friday (1940), Roman Holiday (1953), The Princess Bride (1987), Adam's Rib (1949), When Harry Met Sally… (1988), My Man Godfrey (1936), Moonstruck (1987), The Philadelphia Story (1940), It Happened One Night (1934)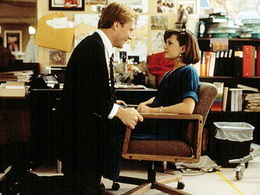 10. Broadcast News (1987)Well, it's Oscar time again, so it's probably worth noting that writer/director James L. Brooks' TV news love-triangle movie "Broadcast News" was nominated for seven Academy Awards and won zero. Chalk it up to the classic Oscar move of not taking comedy seriously enough. ("The Last Emperor" was the big winner that year.) Albert Brooks is a whip-smart TV writer angling for camera time, and he's secretly in love with his best friend Holly Hunter. Although she speaks frequently about how looks don't matter to her, she falls immediately for dumb, pretty news anchor William Hurt. The screenplay has a lot to say about how easily lines get crossed when it comes to affairs of the heart and mind, and it's also very, very funny (coming in at #64 on AFI's top comedies list). "Broadcast News" works as a complicated portrait of Hunter's career-oriented woman, and the behind-the-scenes television news stuff feels as neurotic and troubling as it needs to be. This film is crying out for a DVD re-issue because the bare-bones 1999 one that's out now simply won't do.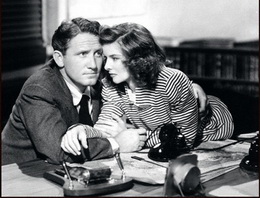 9. Woman of the Year (1942)This is the first of nine films that Katherine Hepburn and Spencer Tracy would make together, and it's the best. The two play feuding columnists for the same New York newspaper (her a political writer with friends all over the world, him a sportswriter who sticks up for the everyman). Soon they become an unlikely couple, and the Oscar-winning screenplay follows them through their many power struggles, into marriage, and to a place where they can find some common ground (even if Hepburn's last-minute conversion seems too easy). The chemistry between Hepburn and Tracy is palpable, since they were actually falling in love on the set. The stars hid their relationship from the press for years out of respect for Tracy's wife, but their real-life romance reflected the personalities they played in this film pretty accurately.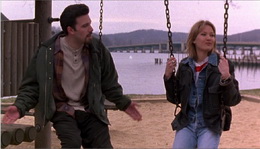 8. Chasing Amy (1997)Kevin Smith doesn't always hit the mark, but one thing he is brilliant at is voicing the inner dialogue of stupid, stupid men. (Some would argue that's all of them, right?) His third picture contains all the frankness of "Clerks" and less of the John Landis tendencies of "Mallrats," but with a more mature, assured handle on relationships. Ben Affleck is the cocky leading man who scores the ultimate catch when he gets a hot lesbian (played by Smith's then-girlfriend Joey Lauren Adams) to fall in love with him. This alienates his best friend Jason Lee (as summed up in the great Soul Asylum song "We 3" on the film's soundtrack), who uncovers some "dirt" on her in retaliation. Affleck's character then goes through every immature thought that guys don't want to admit they have. Does he do the right thing or does he go off the deep end? The ending is as sexually confused as the rest of the film, but sticking with that logic, it works.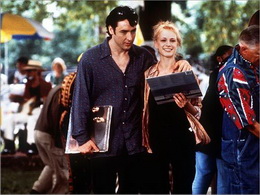 7. High Fidelity (2000)Speaking of the immature inner dialogue of men—this movie goes one step further than "Chasing Amy." John Cusack's frustrated record-store owner doesn't just say what he's thinking out loud or to his friends, he breaks the fourth wall and tells us directly. It's a bit jarring at first, but it's really the only way to get the same confessional atmosphere that British author Nick Hornby achieved in his novel. There's so much familiar ground about the male psyche in the book that Cusack and his team of writers had no problem realizing the London-based characters in their hometown of Chicago. Ironically, it was Englishman Stephen Frears who was hired to direct. I was a list-obsessed nerd working at a record store when my longtime relationship ended, so when I read this book and discovered myself in every page of this character, it was quite disturbing. I was happy to find that the movie captured the book's spirit completely, speaking perfectly to that arrested adolescent in all of us, and that it still contained more ugly truths than any of us would care to admit.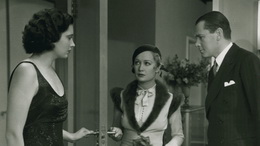 6. Trouble in Paradise (1932)There never was a finer example of "the Lubitsch touch" than this feisty sophisticated comedy. I saw it in film school and was immediately struck by how modern its sensibilities were for a 30s film. Ernst Lubitsch was a master at sexual innuendo, and since this movie was released two years before the Hays Code went into strict enforcement, there is a ton of clever suggestiveness in the sparkling script. Herbert Marshall plays a high-class jewel thief who trades witty repartee with his pickpocket paramour Miriam Hopkins. The two carry on a game of deception to steal money from Kay Francis, a rich and beautiful perfume heiress, but things get complicated when Marshall appears to have fallen for the woman as well. Lubitsch has a way of making immoral characters and actions look attractive and he disposes with sappiness altogether, treating romance like some sort of wicked game that seems to be always teetering on the verge of collapse.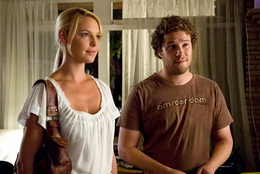 5. Knocked Up (2007)I've been touting the greatness of director Judd Apatow's script for this surprise mainstream hit since the moment it came out. Yes, he had as gifted a cast of improvisers as you'll find this side of a Christopher Guest movie, but as many belly laughs as his co-conspirators earned off the top of their heads, Apatow's screenplay matched in acute observations about male and female relationships. Seth Rogen and Katherine Heigl are picture perfect (which is to say, not perfect at all) in their roles as a hilariously mismatched couple borne out of a one night stand, but let us not forget Paul Rudd and Leslie Mann's searing portrait of an unhappily-married couple. "Knocked Up" may begin with the high concept of an unwanted pregnancy at the worst possible time, but it ends up being a frankly funny and moving story about what it takes to do the right thing. Apatow's script was screwed out of an Oscar nomination due to the Academy's aversion to raunchiness—even the sort of painfully true kind.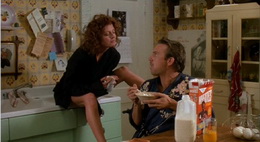 4. Bull Durham (1988)Ron Shelton's minor league baseball romance is a very funny and touching film that stars Susan Sarandon in a love triangle with two very different men. It's a coming-of-age story for hotshot rookie pitcher Tim Robbins and a dealing-with-age story for veteran catcher Kevin Costner. Besides the authenticity of the setting (which comes from Shelton's five years as a minor league baseball player), the movie seems to avoid cliché at every juncture. This is especially rare for a sports movie because they are usually overflowing with them. The sparks between Sarandon and Costner are unmistakable, despite the fact that Sarandon's number-one-fan status commits her to only one team member per season—and that year it's supposed to be Robbins. (That's also ironic considering that Sarandon and Robbins started their real-life relationship on this film.) "Bull Durham" proves that romance can still be in the cards even for people who have given up on it.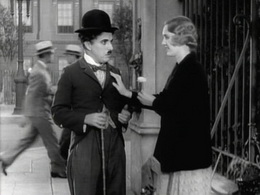 3. City Lights (1931)This instant classic came pretty late for a silent film. "Talkies" had been popular for a while, and few studios were still making silent pictures in 1931, but Charlie Chaplin's Tramp character was a beloved figure and audiences flocked to see this melancholy love story between Chaplin and a blind girl who sells flowers on the street. Several of Chaplin's most famous scenes (including the hilarious boxing match where he hides from his opponent behind the ref and matches him step for step) come from this movie, and the ending is said to be the most romantic in all of cinema. The power of "City Lights" comes from its visual poetry and any talking scenes would have ruined it completely. Despite the soft spot I have in my heart for smart dialogue, this remains one of my favorite movies in any genre. If you're looking for something to serve as an introduction to silent film, this is the perfect place to start. Spoil yourself.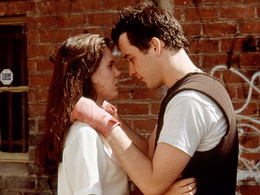 2. Say Anything (1989)Cameron Crowe's directorial debut is set in one very specific moment—that time right after high school graduation that somehow manages to be horribly unsure and hopeful and terrifying all at the same time. It features the most real high school character ever, John Cusack as all-around nice guy Lloyd Dobler, who goes after Diane Court (Ione Skye), the smartest girl in his class. It has a million great iconic moments, too: the boombox, the guys on the curb, the graduation party, Lili Taylor singing "Joe Lies," the "sold, bought, or processed" speech at Diane's dinner table, her giving him a pen, holding hands on the plane, the list goes on. This film does what Crowe does best—it gets all the little details right. Most of all, it features Lloyd Dobler, a young man just trying to be true to himself. Watching him melt the heart of the most popular girl in school by simply being himself is something I'll never get tired of watching.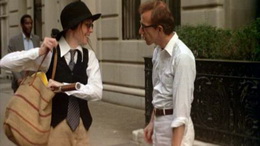 1. Annie Hall (1977)Most of the films on this list subvert the boy-gets-girl/boy-loses-girl/couple-gets-back-together formula in some small way, but Woody Allen's Best Picture winner basically throws it in the toilet. It's the story of two mismatched New Yorkers, Alvy Singer (Allen) and the title character (Diane Keaton), whose lives we see at various times and not at all in chronological order. Additionally, Alvy and Annie are able to see into each other's pasts, witnessing important moments in each other's lives. Of course, Allen also wrote and directed the movie, which breaks all the rules of traditional Hollywood storytelling and features direct addresses to the audience in the middle of the scene, cameos that break the movie's reality, split screen shots, long takes, and animations. Despite it being a "small" film and partially because of all Allen's tinkering, "Annie Hall" has this really epic quality about it—giving a truly complete portrait of this couple. "Annie Hall" doesn't so much chronicle the moments leading up to a relationship, but rather, it mixes up its most memorable moments and forces us to consider the perspective. What Allen's saying is that people who were once intimately close will inevitably grow apart. It's not just the chase that's important, it's everything—the euphoric highs and all the times in between. "Annie Hall" is a celebration of just what the most important people can mean to us.