Expelled
Just when I thought the [Pennsylvania ruling][1] had finally clarified that the reason that intelligent design doesn't belong in the science classroom (maybe because it ain't science) the debate again looms on the horizon. So who will be at the helm of the uprising? A conservative radio host? A politician in a state like ours looking for votes? A head or heads of a particular church, perhaps? Actually no. Here's where it gets weird - it's not a Limbaugh, Huckabee or even a Phelps (he's still busy attending funerals) - it's Ben freaking Stein. Yes, that Ben Stein. The ultra-dry economist, "Bueller...Bueller..." actor and former game-show host whose money one used to be able to win.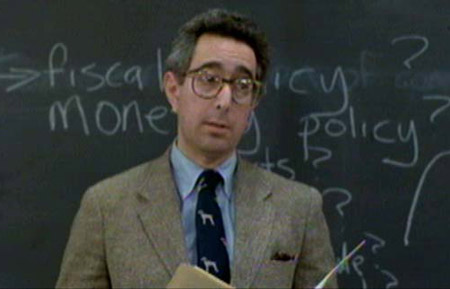 In February, Stein's film "Expelled: No Intelligence Allowed" will be released in theaters. I'll leave the irony behind the film's title to you. From the film's [website][2]:, Ben realizes that he has been "Expelled," and that educators and scientists are being ridiculed, denied tenure and even fired for the "crime" of merely believing that there might be evidence of "design" in nature, and that perhaps life is not just the result of accidental, random chance. _Wow. For as smart as Ben Stein is, he seems to misunderstand the science behind evolution as much as someone who never attended a science class at all. And seems to totally misunderstand how science works, for that matter. Anyone who has ever taken a biology class (or best yet, a physical anthropology class) or read a single book about evolution understands it is the _opposite of accidental, random chance. It's an insanely deliberate process backed up by millions of pieces of evidence. Point is is that science is ALL about evidence - millions of pieces of which back up evolution. As far as we know, there's not a shred of scientifically testable and falsifiable evidence to back up the idea of a creator. It's only fair to require the same standards of each. Period.
He argues that people firmly backing science in SCIENCE CLASSES are against freedom. Yowza - say that word and you may as well have said terrorism. From Stein's [blog][3]: _Under a new anti-religious dogmatism, scientists and educators are not allowed to even think thoughts that involve an intelligent creator. Do you realize that some of the leading lights of "anti-intelligent design" would not allow a scientist who merely believed in the possibility of an intelligent designer/creator to work for him: EVEN IF HE NEVER MENTIONED the possibility of intelligent design in the universe?EVEN FOR HIS VERY THOUGHTS: HE WOULD BE BANNED._I've finally gotten to that happy place where I'm okay with people believing in Intelligent Design, the Xenu of Scientology or that the American Indians actually are descendants of people from Jerusalem who sailed over in the 6th century (hellooo potential President Mitt Romney). All that I ask is they capitulate that this stuff isn't science. It doesn't belong in a science class. Ever. I'd argue that it belongs in a religions class, which I think kids desperately need to be able to understand just about anyone in the world besides themselves. I grew up around scientists, many of whom were deeply religious. It can't affect the science part or it's no longer science. But if the believer can make the religion work around the science, it's all a go. Do whatever makes you happy, but please don't call an apple an orange. Pennsylvania was one step forward. "Expelled" is two steps back...make that five.
[1]: http://www.nytimes.com/2005/12/20/science/sciencespecial2/20cnd-evolution.html?ex=1189137600&en=e0db9ffe7ccdcd55&ei=5070 [2]: http://www.expelledthemovie.com [3]: http://expelledthemovie.com/blog/2007/08/21/bens-blog/#more-4