Stull

Forty miles west of Kansas City down a country road like a lonely soul-I see Sharon and I see Jack it's me and Roman dressed in black tell my bride to bury me in Stull: _ - Urge Overkill, "Stull (Pt. 1)" from the Chicago band's 1992 "Stull" EP "If you want to hear the legends of Stull, ask a college freshman. When you grow up here, this Stull stuff is such bullshit you don't even pay attention to it." -- Chris Lazzarino, lifelong Lawrence resident.
**The _real_ gateway to hell** A friend of mine first got me thinking about "the Stull thing." She and her family have lived on land just outside of Stull for 13 years. She was the first person who told me of _Old_ Stull Cemetery, "the real gateway" (the one pictured above, vs. the familiar one below).
"The one in town isn't the right one," she told me. "The old cemetery has the pentagram. Five cedar trees were planted in the cemetery -- they marked the points of the pentagram. I think there are only two cedar trees there now."
![][2]You mean all this time, all those frat boys and goths and reporters were going to the wrong cemetery? You mean the cemetery with the fence around it, the one marked with 'No Trespassing" signs, the one with the limestone chapel that was vandalized and eventually knocked down... you mean, all this was inflicted on an innocent place of repose for souls' mortal remains?
Could it be that for at least 30 years, the mythology surrounding 'Stull' was popularly focused on the wrong cemetery in Stull? A pretty devilish prank, if you think about it.
This blog is a work-in-progress -- updates and revelations will be posted as they turn up. And as always we are counting on you, dear readers, to tell us what's really going on. Tell us anything you have heard or know about Stull mythology...
**We're off to see the devil (notes)** Old Stull Cemetery lies less than a few miles from the cemetary in Stull proper. (Lest this article be responsible for a new batch of vandalism, we're not publishing the exact location for the time being).
A few of the gravestones were illegible: winter, wind, rain and lichen. The earliest legible stone (no last names), read "Louisa 1866."
Of the nearly 40 stones I counted, 20 were the headstones of infants. Some were marked "Baby," some marked "Infant Dau" or "Infant Son." Some had no names, or only initials ("P"). All were marked by tiny stones.
The adults were remarkably long-lived, many over 80 (dates noted are dates of death): Louisa 1866 Richard 1881 Hermina 1898 Ralph 1910 Lettie 1903 Infant Dau 1900 Infant Son 1893 Ida 1891 Rose 1968 Mabel Irene 1999
Based on Louisa's death date and the few other illegible stones, I figured that the cemetery was established around 1850. There were two new occupants of Old Stull Cemetery since the '30s.
![][3] Most of the fallen markers seem to be victims of time and weather. Interestingly, too, many of the fallen markers had an image of a hand pointing upward, while none of the markers still standing had such imagery. A few stones seemed to be moved or taken.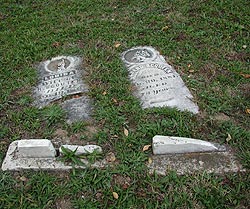 **Portals to Hell** I have no idea what a portal to Hell should look like, other than maybe like Las Vegas.
The thicket surrounding the old cemetery is dotted with wild eastern cedars, but only two old cedars still stand on the humble lawn of repose.
Apparently, all portals to Hell are marked by a pentagram visible only to the evil elite. When mere and bovine mortals (us, the prey), cross the invisible lines of a profane pentagram, it's said that we feel a sharp drop in temperature, a sudden chill.
My thermometer held steady at 60 degrees during 10 minutes of perimeter patrol, then five minutes of grid-walking.
**Stull Cemetery Lore** - In a 1995 trip to Colorado, the Pope redirects the flight path of his private plane to avoid flying over the unholy ground of Stull Cemetery. - Reports of abundant paranormal phenomena from residents in the town: raps and banging; voices-often reported to be the voice of an old woman; weird clocks and indoor windstorms; ghostly children playing at night in the cemetery; time shifts and discrepancies, inexplicable loss of memory and disorientation. - Legend has it that the devil returns to Stull Cemetery -- only on the Spring Equinox and on Halloween (his busiest night) -- because one of his wives is buried there. Another rumor holds that the devil returns to Stull to visit the gravesite of his infant son.
**Links** [Stull Cemetery][4] [Cemetery Gateway to Hell?][5] [Stull Cemetery Investigation][6] [Your Prayers Have Been Answered][7] [Old Kansas, New Mystery][8] [Cemetery Remains Quiet During Halloween Night; LJ World 1989][9] [Century Old Tree Comes Down In Stull Landmark; LJ World 1998][10] [Creepy Legends Bring Curious To Stull; LJ World 1999][11] [Legends Linger Around Stull Cemetery; LJ World 1999][12]
[4]: http://istina.rin.ru/eng/ufo/text/105.html [5]: http://www.prairieghosts.com/stull.html [6]: http://www.webspawner.com/users/stullcemeteryinvesti [7]: http://www.zerotime.com/articles/stull.htm [8]: http://www.otherplane.com/stories/us/ks/twheatly01.htm [9]: http://www2.ljworld.com/news/1989/nov... [10]: http://www2.ljworld.com/news/1998/oct... [11]: http://www2.ljworld.com/news/1999/oct... [12]: http://www2.ljworld.com/news/1999/nov...